Map the Moment :: CAT Scotland
4th May 2012
---
WARNING! This event has passed.
Map the Moment
Instantly, actively mapping and the process of change, consultation and speed supervision in CAT
Date: Friday, 4th May 2012
Time: 9:30am - 4:30pm
Venue: Edinburgh Training and Conference Venue, 16 St Mary's Street, Edinburgh (5 mins walk from Waverley train station)
Fee: £65.00
Steve Potter, Chair of the International Cognitive Analytic Therapy Association leads a CPD day concerned with the active use of mapping side-by-side with the client. There will be video examples of making maps together and exploration of the theory behind shared mapping - both as formulation and as the basis of a caring and therapeutic relationship. Participants will receive step-by-step guidelines to mapping the moment with clients or colleagues. We will work in pairs using speed supervision to develop skills in making maps and to explore the evidence for its impact on therapeutic processes, care co-ordination, team work and mechanisms of change. The day will appeal to anyone interested in technical and relational aspects of therapy, consultation or supervision. Prior knowledge of CAT is not essential.
Please note: Lunch will not be provided. However, there are many cafes in the nearby Royal Mile and you are welcome to bring your own lunch into the meeting room. However, a complementary breakfast will be available in the venue restaurant until 9.30am.
Please forward completed application with payment by 10th April 2012 to:
Ms Georgie Crane
CAT Scotland Administrator
3 Hailes Street
Edinburgh EH3 9NF
Tel: 0131 228 6718
TO RESERVE A PLACE PLEASE DOWNLOAD AND E-MAIL COMPLETED FORM TO: georgiana@tollcross.plus.com
Cheques payable to: CAT Scotland
No cancellations will be refunded within 14 days of the course
Event Documents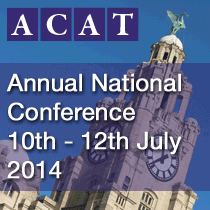 Our Next 3 Special Interest Group Events
15-03-14 LD Special Interest Group Conference and Book LaunchCAT and Learning Disability Special Interest Group Conference & Book Launch Goldsmiths, University of London Saturday, 15th March 2014 - 09:00 to 17:30 Cost: £50 (online with a personal debit/credit card) / £60 (cheque or invoice) ...
10-04-14 Learning Disabiity Steering Group Meeting10.30 - 3.00 Meeting is at the Brian Oliver Centre. The hospital is in Coleshill Road, Birmingham. The agenda is taken from the previous minutes (which are available on this web site) although there is plenty of space for additional topics. ...
17-07-14 Learning Disabiity Steering Group MeetingThe meeting, at the Brian Oliver Centre, Brooklands Hospital, Coleshill Road, Birmingham is between 10.30 and 3.00. The preivous meetings guide the agenda, but there is opportunity for participants to bring additional items....