ACAT Events
Here is a list of different types of event that are run by ACAT. Click on the event type to view a list of the events in each type.
ACAT International Conferences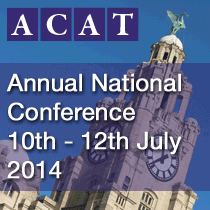 Our Next 3 Events
21-08-14 Introductory Workshop in CAT, facilitated by Julie RogersA Two Day Introductory Workshop in Cognitive Analytic Therapy facilitated by Julie Rogers 21st and 22nd August 2014 54 Charles Street, Cardiff CF10 2GF Cost: £220 Aims and Background This experiential two day workshop provides an introdu...
02-09-14 Introducing Cognitive Analytic Therapy offered by Berkshire HealthcareIntroducing Cognitive Analytic Therapy (CAT) A one day workshop offered by Berkshire Healthcare When: Tuesday, 2nd September 2014 10.00 am to 4.00 pm Where: Friends Meeting House, Maidenhead SL6 1RL Aims: To provide ...
19-09-14 ACAT Introduction to Cognitive Analytic TherapyIntroduction to Cognitive Analytic Therapy A two-day introduction to the skills and concepts in practice This highly-rated, short course is offered by ACAT for people new to the CAT way of working Dates: Friday, 19th and Saturday, 20th September 20...