ACAT Events
Here is a list of different types of event that are run by ACAT. Click on the event type to view a list of the events in each type.
ACAT International Conferences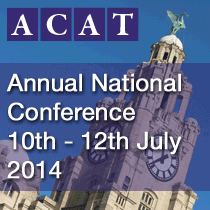 Our Next 3 Events
12-03-14 Relationship, Interaction and the BodyRELATIONSHIP, INTERACTION AND THE BODY: AN INTRODUCTION TO BODY-FOCUS TECHNIQUES FOR CAT THERAPISTS George Downing 12th to 14th March 2014 Järvenpää, Finland In this ps...
13-03-14 An Introduction to Cognitive Analytic Therapy offered by Sussex Partnership NHS Foundation TrustIntroduction to Cognitive Analytic Therapy A two-day course for mental health professionals offered by Sussex Partnership NHS Foundation Trust Thursday 13th and Friday 14th March 2014 Conference Room 2, East Brighton Community Mental Health Centre...
15-03-14 LD Special Interest Group Conference and Book LaunchCAT and Learning Disability Special Interest Group Conference & Book Launch Goldsmiths, University of London Saturday, 15th March 2014 - 09:00 to 17:30 Cost: £50 (online with a personal debit/credit card) / £60 (cheque or invoice) ...