ACAT Events
Here is a list of different types of event that are run by ACAT. Click on the event type to view a list of the events in each type.
ACAT International Conferences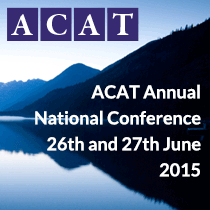 Our Next 3 Events
06-03-15 CAT and Relationships: Finding a helpful dialogue for couples in trouble offered by CAT SouthSPEAKER: CHERRY BOA on Friday 6th March 2015 – 9am for 9.30 am start – 4.30pm at CANTLEY HOUSE HOTEL, MILTON RD, WOKINGHAM, W. BERKS RG40 5QG This all day workshop is suitable for a wide range of participants ranging from those wi...
13-03-15 Problems in SupervisionProblems in Supervision Rising to the Challenge… Offered by Catalyse and led by Glenys Parry and Debby Pickvance Date: Friday, 13th March 2015 (postponed from 26th September 2014) Time: 9:30am – 4:30pm Venue: GMCVO, Manchester M12 ...
19-03-15 ACAT Introduction to Cognitive Analytic TherapyIntroducing Cognitive Analytic Therapy (CAT) A two-day introduction to the skills and concepts in practice This highly-rated short course is offered by ACAT for people new to the CAT way of working Date: Thursday, 19th and Friday, 20th March 201...