Previous Page
ACAT Complaint Checklist
Please read this in conjunction with the ACAT Complaints Procedure and the relevant Codes of Ethics and Practice
Name the person against whom the complaint is made. Details must be sent in writing.
Check your complaint against the timescale - a formal complaint should be lodged within three years of the event which forms the substance of the complaint. A complaint outside that period will only be considered for good reasons in exceptional circumstances.
Details of the complaint must be sent in writing to the Chair of the Ethics Panel, c/o ACAT Office, PO Box 6793, Dorchester, DT1 9DL. This must include specific identification of the provision or provisions of the relevant Code alleged to have been breached.
Please give details of whether and how you have tried to resolve the matter with the member of ACAT, using mediation (or other service). If no attempt has been made to resolve the matter, please give an explanation as to why this has not been the case. Copies of any correspondence relating to this matter should be attached to your complaint.
Provide exact details of events that are the subject matter of the complaint, including times, dates and places supported by as much evidence as possible. It is useful to open with a summary of the situation before going into the exact details of your complaint.
Witness statements could provide evidence of the occurrence of events. Other evidence could be supplied in the form of documents, contemporaneous notes, pre-training literature, diary entries, advertising material and correspondence etc.
Where evidence is supplied, it should be attached to the complaint as appendices and clearly referenced in the body of the complaint.
Please ensure wherever possible that your complaint is written on one side of each sheet of paper only to help when copies are made. Please avoid using colour.
A copy of the complaint will be seen by the member complained against. Therefore you must be aware of what contact details you include in the submission. If you do not wish the member complained against to have sight of your contact details or that of third parties, please exclude them from your submission, but your details must be included in the covering letter to ACAT.
The complaint should be signed and dated.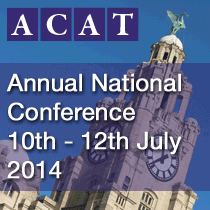 News from ACAT
Improving the effectiveness of Psychological Therapies for Depression and Anxiety Event offered by Healthcare Conferences.............
CAT for People with Intellectual Disabilities and their Carers A new book "Cognitive Analytic Therapy for People with Intellectual Disabilities and their Carers" edited by accredited ACAT members, Julie Lloyd and Phil Clayton, has just been published by Jessica Kingsley Publishers. Further details and order form...
ACAT Website Design Updates We have just launched a some updates to the ACAT website to help to make it easier to use, and easier to read....
2013 Conference Podcasts Online If you couldn't make the Annual Conference in 2013, or would like to listen again to some of the presentations you can now find them on the website....