Previous Page
How can I get to see a CAT therapist
Many CAT practitioners and psychotherapists work in the NHS but not all localities have CAT services. It is sometimes offered in primary care. There are many secondary care and specialist CAT services often for clients with complex needs. CAT may be available within some voluntary organisations providing therapy services, through private healthcare organisations as well as some university counselling services. Your GP should be able to advise you on access to local resources and refer you on if you both feel it is appropriate. There are practitioners and psychotherapists who provide CAT privately and you can find a link to the list of private therapists below.
What Qualifications Can I Expect the Therapist to Have?
ACAT can confirm that all the therapists listed on the ACAT Register are accredited CAT Practitioners or Psychotherapists. Some therapists work privately, and some work in the NHS or other organisations.
CAT Practitioners usually have either core training as a mental health professional (e.g. as a Psychiatrist, Psychologist, Nurse, Social Worker or Occupational Therapist,) with a minimum of two years post-qualification experience, or previous training in counselling to an accredited level followed by a two year training in Cognitive Analytic Therapy with accreditation following successful completion.

CAT Psychotherapists have qualified as CAT Practitioners and have undertaken an additional in-depth two year training leading to this qualification.
Members of ACAT adhere to a Code of Ethics and there is a formal complaints procedure to protect clients. All practitioners and psychotherapists are in supervision for their clinical work.
To search the register for an Accredited therapist click here.
To find an Accredited Private CAT therapist click here.
So….

CAT was designed and has developed to help therapists form a respectful, trusting and open-minded relationship with each different client in order to establish a dialogue that explores the underlying meaning of identified problems and obstacles in a person's life. Through collaboration and reflection on experiences in the therapy relationship and the person's real life, new ways of dealing with problems, conflicts and distress can be tried out and become established. This can lead to real hope and change for the better for the client and for those close to them.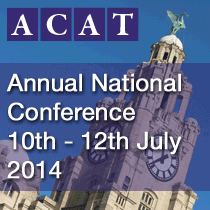 News from ACAT
Improving the effectiveness of Psychological Therapies for Depression and Anxiety Event offered by Healthcare Conferences.............
CAT for People with Intellectual Disabilities and their Carers A new book "Cognitive Analytic Therapy for People with Intellectual Disabilities and their Carers" edited by accredited ACAT members, Julie Lloyd and Phil Clayton, has just been published by Jessica Kingsley Publishers. Further details and order form...
ACAT Website Design Updates We have just launched a some updates to the ACAT website to help to make it easier to use, and easier to read....
2013 Conference Podcasts Online If you couldn't make the Annual Conference in 2013, or would like to listen again to some of the presentations you can now find them on the website....
Both CAT Practitioners and CAT Psychotherapists count as Psychological Therapists in the Centre for Workforce Intelligence Review The Centre for Workforce Intelligence (CfWI) have recently completed a Department of Health commissioned review of adult psychological therapies to improve workforce planning. Please take the time and opportunity to read the report, and to ensure tha...