Previous Page
Other Organisational Roles
External Moderator - Richard Cleminson
The External Moderator's function is to advise and assist the organisation to develop and maintain their training and accrediting processes.

The Chair of the Ethics Committee - Catherine McCarter
The Chair of the Ethics Committee is responsible for conducting investigations and maintaining and reporting upon ethical standards in the practice of CAT.

The Chair of the Panel will provide a report, including, where appropriate, statistics, to the membership of ACAT at each Annual General Meeting, and when required, to UKCP.

ACAT Administrator - Susan Van Baars
The role of ACAT Administrator covers four days a week. The main aspects of the work are around the day to day financial administration of the organisation together with the financial side of the IRRAPT (Psychotherapy training course) and St Thomas courses, all aspects of membership, annual conference administration, liaison with practitioner, skills and psychotherapy trainings, support for ACAT's main committees such as trustees, training committee, exam board, council of management, AGM etc, website maintenance, general enquiries and liaison. The Administrator also works with the ACAT/SHU Liaison officer providing support and administration of the ACAT/Sheffield Hallam University liaison work, continuing responsibility for student registrations and fees and also reviewing systems, monitoring courses and student status.

Assistant Administrator - Maria Cross
The assistant administrator works with the administrator in the ACAT office three days per week and her key responsibilities are looking after the arrangements and bookings for events and workshops, new UKCP memberships, the administration of supervisor training working with the National External Examiner for Supervisor Training, the Exam Board administration working with the Chair of the Exam Board, as well as general office duties etc.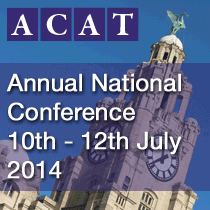 News from ACAT
Improving the effectiveness of Psychological Therapies for Depression and Anxiety Event offered by Healthcare Conferences.............
CAT for People with Intellectual Disabilities and their Carers A new book "Cognitive Analytic Therapy for People with Intellectual Disabilities and their Carers" edited by accredited ACAT members, Julie Lloyd and Phil Clayton, has just been published by Jessica Kingsley Publishers. Further details and order form...
ACAT Website Design Updates We have just launched a some updates to the ACAT website to help to make it easier to use, and easier to read....
2013 Conference Podcasts Online If you couldn't make the Annual Conference in 2013, or would like to listen again to some of the presentations you can now find them on the website....
Both CAT Practitioners and CAT Psychotherapists count as Psychological Therapists in the Centre for Workforce Intelligence Review The Centre for Workforce Intelligence (CfWI) have recently completed a Department of Health commissioned review of adult psychological therapies to improve workforce planning. Please take the time and opportunity to read the report, and to ensure tha...