Previous Page
Reformulation - the newsletter for the Association for Cognitive Analytic Therapy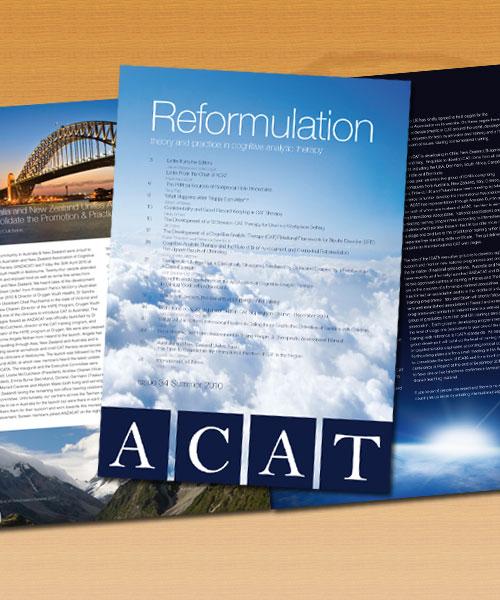 Reformulation
is committed to upholding a broadly based view of the Cognitive Analytic approach and developments within CAT. Reformulation considers articles on CAT practice and theory, as well as debates, letters, poems, book reviews, art works and adverts relevant to CAT. Contributions by users of CAT are particularly welcome. Views expressed by writers are their own and do not necessarily reflect the personal views of the editors or ACAT. Editors encourage exchange and debate between differing points of view and for this reason invite readers to respond to articles by writing letters to the Editors with a view to publication.
Submissions:
Reformulation is published twice a year in June and December and is free to ACAT members. Articles or items for submission on any aspect of CAT (between 250 and 2,000 words) or advertisement for any CAT event should be submitted electronically via ACAT to reformulation@acat.me.uk. Articles are only accepted at the discretion of the editors. The Editors cannot guarantee that a manuscript accepted for publication will be published in any particular issue of the Journal.
The Aims and Scope of Reformulation and Consent to Publish in Reformulation
For more information around submissions and the aims and scope of Reformulation please click on: "The Aims and Scope of Reformulation" and for consent to publish please click here: "Consent to Publish in Reformulation"
Editorial Team:
Editor: Rob Lam
Acting Editors: Alison Jenaway, Carol Gregory
Editorial Advisor: Elizabeth McCormick
Graphic Design and Print: Alacrify Ltd
Articles in the Current Issue of Reformulation :: Summer 2020 [Issue 54]