Previous Page
Reformulation - the newsletter for the Association for Cognitive Analytic Therapy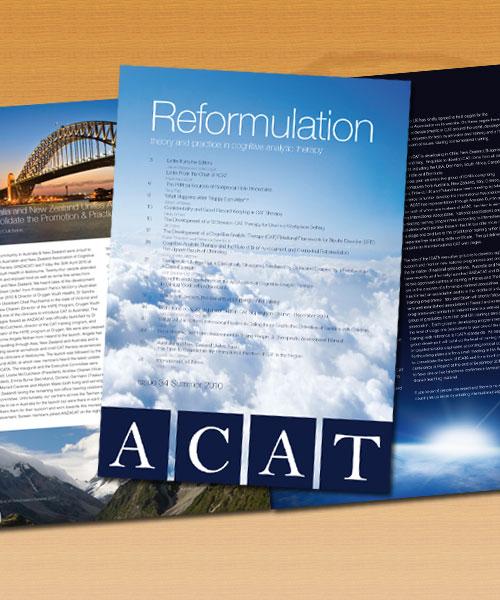 Reformulation
is committed to upholding a broadly based view of the Cognitive Analytic approach and developments within CAT. Reformulation considers articles on CAT practice and theory, as well as debates, letters, poems, book reviews, art works and adverts relevant to CAT. Contributions by users of CAT are particularly welcome. Views expressed by writers are their own and do not necessarily reflect the personal views of the editors or ACAT. Editors encourage exchange and debate between differing points of view and for this reason invite readers to respond to articles by writing letters to the Editors with a view to publication.
Submissions:
Reformulation is published twice a year in June and December and is free to ACAT members. Articles or items for submission on any aspect of CAT (between 250 and 2,000 words) or advertisement for any CAT event should be submitted electronically via ACAT to reformulation@acat.me.uk. Articles are only accepted at the discretion of the editors. The Editors cannot guarantee that a manuscript accepted for publication will be published in any particular issue of the Journal.
The Aims and Scope of Reformulation and Consent to Publish in Reformulation
For more information around submissions and the aims and scope of Reformulation please click on: "The Aims and Scope of Reformulation" and for consent to publish please click here: "Consent to Publish in Reformulation"
Editorial Team:
Editors: Nicola Kimber-Rogal and Louise Yorke
Editorial Advisor: Alison Jenaway
Editorial Board: Caroline Bunting, Haydee Cochrane, John Fox, Beth Greenhill, Carol Gregory, Gemma Kothari, Susan Mitzman, Sarah Richards, Omar Sattaur, Olivia Southwell, Nicola Tweedie, Tracey Weldon, Julie Wilkinson
Graphic Design and Print: Alacrify Ltd
Articles in the Current Issue of Reformulation :: Winter 2016 [Issue 47]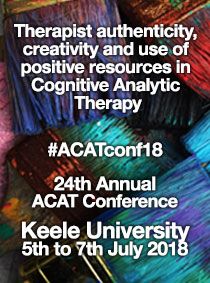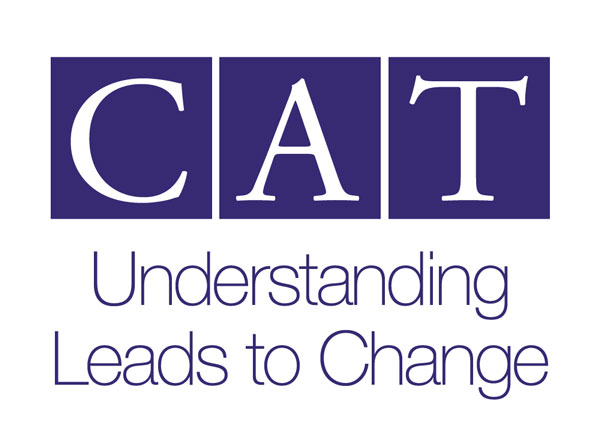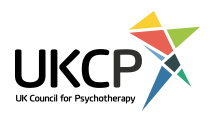 ACAT Calendar for April
Su
Mo
Tu
We
Th
Fr
Sa
1
2
3
4
5
6
7
8
99th April 2018
CAT Supervisor Training: ACAT Relational Skills in CAT Supervision Residential

10
11
12
1313th April 2018
CAT Introductory Event: 2 Day Introduction to CAT - offered by Catalyse
CPD Event: CAT Research Conference - a joint ACAT & Catalyse event

14
15
16
17
18
1919th April 2018
CAT Introductory Event: Introduction to Cognitive Analytic Therapy - offered by Jurai Darongkamas & Jeanette McLoughlin

20
21
22
23
24
2525th April 2018
CPD Event: Unmet needs and Unmanageable Feelings: CAT in Action - offered by South Wales CAT Training Ltd

26
2727th April 2018
CAT Introductory Event: CAT 2 Day Introductory Workshop - offered by Northumberland, Tyne & Wear NHS Foundation Trust
CPD Event: Mapping Mortality in CAT - offered by NECAT

28
29
30
News from ACAT
New publications from ACAT members As you may have seen in the latest edition of Reformulation there have been two new publications recently by our members which may be of interest:...
Both CAT Practitioners and CAT Psychotherapists count as Psychological Therapists in the Centre for Workforce Intelligence Review The Centre for Workforce Intelligence (CfWI) have recently completed a Department of Health commissioned review of adult psychological therapies to improve workforce planning. Please take the time and opportunity to read the report, and to ensure tha...