Differences Between Borderline and Narcissistic Personality Disorders
Ryle, A., 2002. Differences Between Borderline and Narcissistic Personality Disorders. Reformulation, Autumn, pp.16-17.
---
Tony Ryle
The diagnostic criteria for narcissistic personality disorder (NPD) are summarised in DSM IV as follows: grandiose fantasies, uniqueness, arrogant and haughty behaviour, entitlement, exploitiveness, lack of empathy, exaggeration of talents, the need for admiration and envy. It is not a list to warm one's heart and it suggests that, even more than with borderline patients, countertransference is likely to be a key issue in both diagnosis and treatment. It is, however, typical of DSM diagnoses in that no quantification of these unadmirable traits is proposed and in that certain key features are missing, in particular the presence of dissociated self-states and the patients' underlying vulnerability.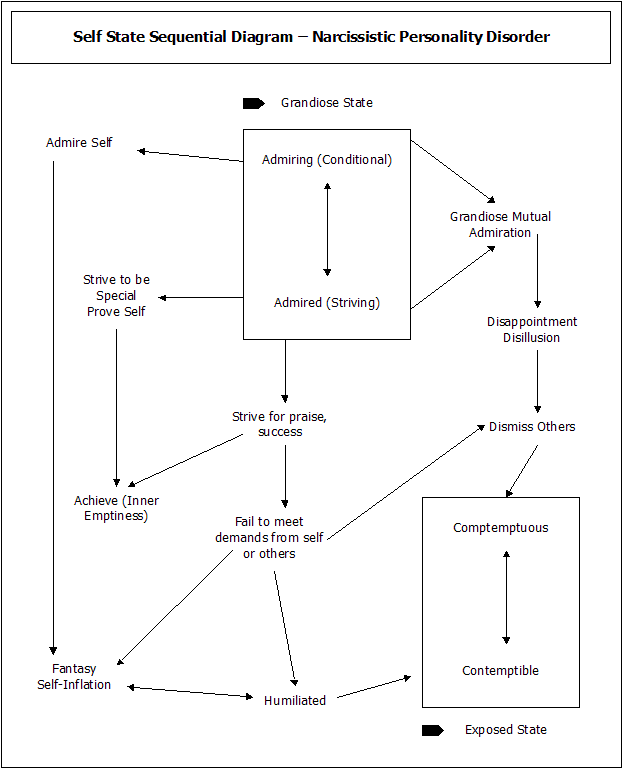 'Pure' examples of NPD are uncommon; more often patients also meet the criteria for Borderline Personality Disorder (BPD) and for associated Axis 1 conditions, notably depression. For the purposes of this paper, however, I will focus on NPD and on the ways in which it differs from BPD and in doing so will attempt to offer a clearer picture than has been given in previous CAT descriptions of narcissistic features.
Early development
One group of NPD patients have experienced the kinds of parental abuse and neglect typical of BPD, differing only in that, at some point in their development, they have found compensatory acknowledgements from others, often for achievement in athletic, intellectual or performing spheres or for physical attractiveness. These exposed patients remain vulnerable and hypervigilant, always aware of the risk of failure. A second group has not experienced frank abuse or deprivation but have been regarded by their (often narcissistic) parents as admirable advertisements for, or extensions of, themselves, being rewarded for how they appear and for what they achieve. As other aspects of their needs and experiences are little considered they too suffer emotional deprivation, but this is less evident to them and to others than is the case in the first group. They are more likely to display the grandiose traits of the DSM diagnosis than are the more exposed, hypervigilant patients and, if faced with disappointments or rejection, are more likely to sustain themselves through grandiose self-inflation and fantasy. Both groups, however, attempt to relate through a narrow reciprocal role pattern seeking to be specially admired by admirable others; they may feel entitled to such admiration but most also devote much energy to extracting it.
NPD patients may seek therapy because they fail to elicit enough praise and recognition from others or because they fail to meet their own--often escalating--demands. Some grandiose narcissists consult even though still successful in the world because of a growing awareness of emotional emptiness which is the consequence of their narrow focus on appearance and performance and the absence of reciprocal role patterns concerned with emotional warmth. But the common response to the failure of others to supply adequate admiration is a switch into an alternative self- state defined by the reciprocal role pattern of contemptuous in relation to humiliated and contemptible; the latter role may be associated with destructive envy, depression and substance abuse. A main problem in therapy is the fact that acknowledging emotional need is equated with this humiliated role.
The Multiple Self States Model (MSSM) of Narcissistic Personality Disorder (NPD)
The three aspects of damage identified in the MSSM of BPD occur also in NPD, but are not identical.
Level 1.Whereas in BPD a range of extreme reciprocal role patterns is encountered, in NPD the range is narrow, being concerned with issues of success, competition and appearance and excluding other dimensions of interaction. While BPD patients provoke powerful and contrasting countertransference reactions, the NPD patient is likely to convey either coldness or contempt which elicit indifference or rejection.
Level 2. As described above, there are two main partially dissociated self-states in NPD, one with the pattern admiring-admired and the other with the pattern contemptuous-contemptible.
Level 3. Switches between these self-states may disrupt self-reflection in NPD as they do in BPD, but the main problem in therapy is to dislodge patients from the grandiose role or to maintain therapy when they are in the contemptuous role. In these states self-reflection may be active but attention is focused only on the issues of power, admiration and vulnerability.
Implications for therapy
Therapy in NPD calls for a great deal of tact , for the patient's equation of need with vulnerability has to be overcome, and therapists will be called upon to be admiring, admired or humiliated and may be provoked into contempt. The recognition by the therapist of the patient's underlying vulnerability makes it more possible to endure both bombast and destructive attacks, and the use of the diagram, the construction of which will have involved at least the offer of collaboration, takes some of the heat out of the exchanges. Letting go of narcissistic modes and acknowledging emptiness and need is not easy and patients deserve real praise if they are able to stick to the therapeutic tasks.
The diagram shows the main features of the model proposed here. In view of the relative neglect of NPD in the CAT literature I would be interested to hear comments and suggestions from CAT therapists who have treated NPD.
Tony Ryle