Reflections on a Dilemma in a Supervision group: Caught between a Rock and a Hard Place
Gil-Rios, Dr. C., M., and Blunden, Dr. J., 2012. Reflections on a Dilemma in a Supervision group: Caught between a Rock and a Hard Place. Reformulation, Summer, pp.23-25.
---
It is rare to come across cases in which you can see the problem very clearly and yet can see no way forward to the solution. This is one of those cases.
I am a higher specialist trainee in general adult psychiatry, ST6, what used to be called specialist registrar, and as part of my training to become a CAT practitioner I was allocated this complex case as one of the required 24 session CAT. Early on within the therapy, the issues of Homosexuality and Religion appeared.
Case vignette: (permission given by patient, some details have been omitted or changed for the purposes of confidentiality)
43 year old woman referred for CAT by the community mental health team who had been involved in her care for over 10 years. She has a long history of borderline personality disorder, characterised in her case by frequent self-harming behaviours, binge eating, and occasional frank attempts at suicide. Alongside this, she has had recurrent severe depressive episodes and an ambivalent relationship with services, as she has frequently complained about individual members of staff and services as a whole.
She was the second of four children, having 2 brothers and a sister. Her parents were devout members of a local religious community; such that all of the family's social circles were also members of the church and relationships with 'outsiders' were frowned upon. Her father was authoritarian and distant, whereas her mother was warm, affectionate and loving. However, mother was subservient to the wishes of father and so the household was held in thrall to father's stern authoritarianism, which itself was based on a harsh version of the religious doctrine.
Understandably, she spent most of her childhood, adolescence and early adulthood striving to please and gain any affection (even if fleeting) from her father which she obtained by becoming an active and influential member of the religious community.
When she was 30 years old she went to a retreat run by the national religious organisation, and there she fell in love with another female member of the congregation. They were discovered together by a senior member of the religious community and both were sent home in disgrace. Her local religious community took this very seriously and it became a scandal within the local community which deeply embarrassed her family, causing them to stop all contact with her. This left her feeling totally isolated as everyone she knew had shunned her for several years. As a result, she was profoundly distressed, but so much so by the prospect of losing the connection with her family and religious community that she resolved to remain celibate and has never got close to having another relationship since then.
Some years later, she was referred to therapy with the ultimate and impossible goal of achieving total control over her emotions and feelings, including her homosexuality.
The CAT Team:
The supervision group was diverse, with various levels of knowledge, expertise and backgrounds, comprised of 3 trainee CAT practitioners (Psychologist, Psychiatric Nurse, and myself), along with our supervisor (Consultant Psychiatrist) and a trainee supervisor (Psychologist).
I felt very fortunate to have available to me the richness of the group. It allowed for different points of view, leading to interesting discussions, debates and arguments. The positions adopted were heavily influenced by the personal lives and experiences of the various members.
I am from a Catholic background and have the experience of growing up with the notion of guilt originating from a highly religious culture. Even though at school, the concept of guilt was pitched within a forgiving context, this was not so much the case in other areas of life outside school. I also have the experience of a close relative who is religious, but also gay (obvious conflicting stances). My relative has never admitted to being gay, despite my family's attempts to provide an open, welcoming, and accepting environment.
Another member of the supervision group is atheist and gay, so our individual experiences and views on religion in particular and how engrained religion can be in one's personality, and therefore the difficulty of letting go of it or challenging these strongly held beliefs were completely opposite. We fluctuated between the idea of 'how can you deny your sexuality, this should not happen in the day and age we live in', to 'Yes I agree but... it is not that easy to let go of your, in a way almost intrinsic religious beliefs!' All of this ensured much metaphorical wailing and gnashing of teeth within supervision.
Caught between a Rock and Hard Place:
The big dilemma for the supervision group was to either take the bull by the horns and step into centre stage into her dilemma advocating for the 'general society norm' of coming out (the Hard place), or to go 'gently, gently' with utmost respect for her religion (the Rock).
So my options were to either continue with a persistent, but non confrontational model, or be more clear and explicit, and risk the therapy coming to a premature end. Was I colluding because of my own cultural and family background? Would a more straight forward approach be required in order to address the conflict? Or would that cause an irreparable rupture?
Ultimately the decision always rests with the therapist, so I decided to approach it in a gentle, non confrontational way, 'pushing where it moved', working within Vygotsky's zone of proximal development. I believed that my patient's situation, both in terms of her relationship with religion and also her interaction with the psychiatric services, served the purpose at times of perpetuating the internalised critical, abusive parental reciprocal role, which ignites her negative sense of self, and that the core of her difficulties lay in this extreme, negative, derogatory sense of self. So if we could set aside for a second, the important aspect of religion, I believed that she would still struggle in forming close relationships, because the intense fear of being rejected is, in her eyes, too painful and destructive to be able to handle or even survive emotionally.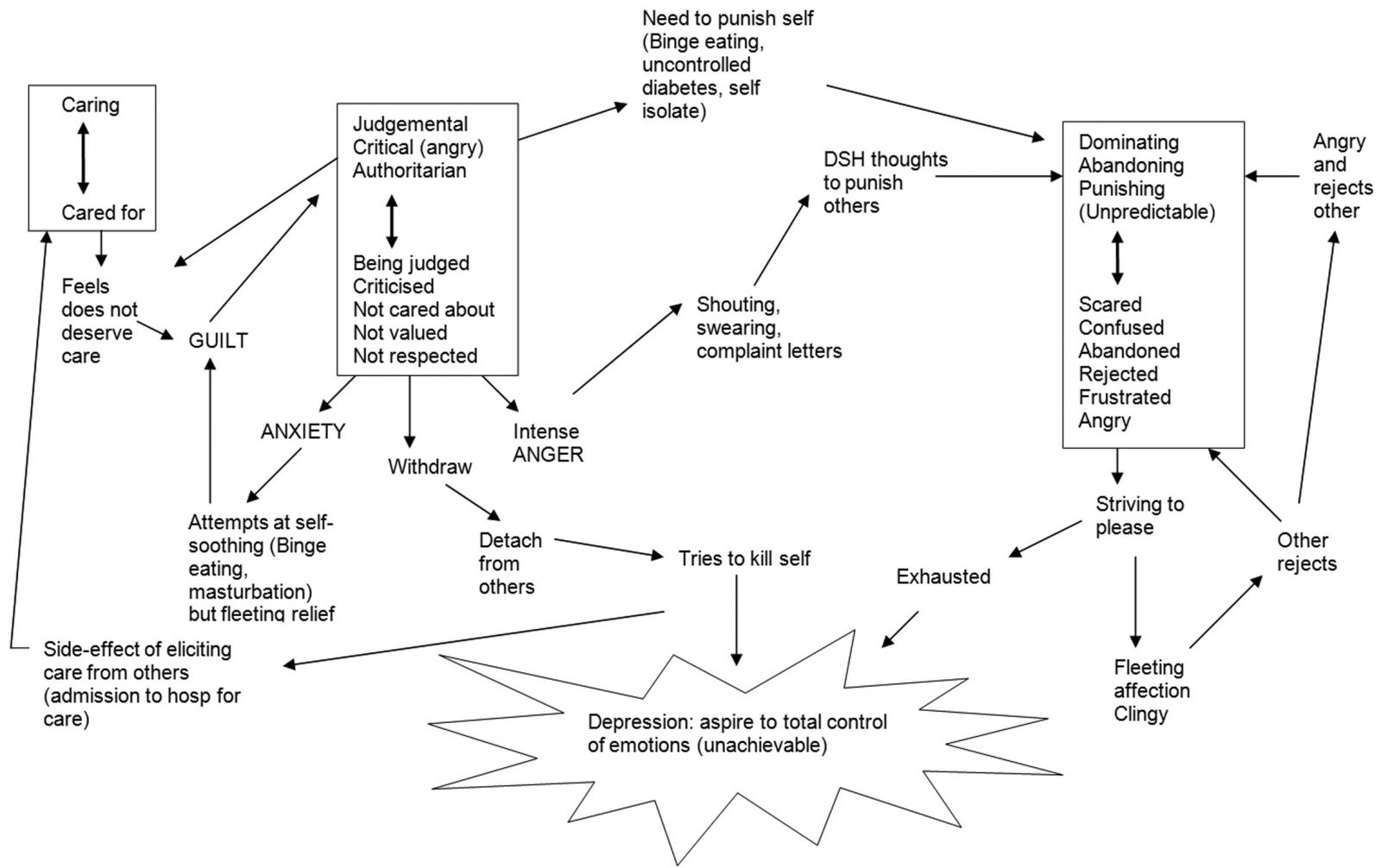 The caring reciprocal role comes from mother and at times is re-enacted by both the psychiatric services and her religious community (she feels loved and a sense of belonging). But she then finds extremely difficult to accept that care as she is, in her own eyes, undeserving of it.
Equally, at varying times in her life, both the psychiatric services and her religious community engage with her in the critical and punishing reciprocal roles.
With that in mind, as therapy progressed, she seemed to relate to and understand the reformulation letter and SDR, identifying the patterns she kept repeating, but without any solution to the conflict of Religion and Homosexuality. Exits were only situational (possible per incident), and often the emotion attached was so intense that they were ineffective. An exit to feeling criticised was to take a step back and write down some ideas on paper and discuss later with her care coordinator or with a friend instead of immediately going into punishing others or self.
She desperately wanted to find a way to be able to extinguish her emotions, especially her sexual feelings, at will. In the supervision group, we could all see that this was (a) physiologically impossible e.g. she was experiencing erotic dreams which would leave her feeling an intense sense of disgust and precipitate an urge to engage in self punishing behaviour, and (b) even if remotely achievable would leave her forever without any experience of close, intimate relationships with another human being. Everyone in the group felt painfully helpless about finding a way out, because unless circumstances changed, the conflict between religion and sexuality would always persist.
She was, just as we were in the supervision group, effectively caught between a rock and a hard place. Choosing the rock (religion) would mean keeping her beliefs, family and community, her system of meaning BUT in return must extinguish all sexual feelings and never have an intimate relationship, or choosing the hard place (sexuality), having the chance to 'be herself', and have an intimate relationship including a sex life BUT must repudiate her religious beliefs, lose her family, friends and community; build an alternative belief system; and negotiate / learn how to 'do relationships' at a much later stage of life than most people do.
Around week 19 of therapy, she came to the realisation that CAT was not going to be able to provide her with 'total control' over her emotions and feelings. This took her to a withdrawn and detached place, where suicide was contemplated. She expressed her discontent with the lack of effectiveness of the CAT model, requesting to have another type of therapy. She only agreed to continue to the end of therapy because we had such a good rapport. We exchanged goodbye letters, and in the end it was extremely sad for all, including the supervision group.
Life after CAT:
Since the ending of therapy, important changes have occurred. She has told me that CAT has indirectly helped her come to the useful realisation that it is impossible to find 'an answer / the answer' of how to achieve total control, because one does not exist. Now her intention is to try and build a life for herself. She has gone back into paid employment, on a part time basis, after over 7 years.
In terms of her religious beliefs, her homosexuality has been covertly acknowledged by being allowed to form part of the religious community again, and she feels accepted by her community, but with the understanding that she will not seek intimate sexual relationships. She is however, now at times able to have sexual fantasies, and masturbate without the self hatred and guilt previously associated. She feels God accepts her, and her next stage is to embark on the treacherous journey of accepting herself.
Discussion
This was a case in which the supervision group felt hopeless much of the time because of being able to see the importance of what seemed to be an impossible choice lying at the heart of the reformulation. This choice was one which different members of the supervision group would have reacted to differently in their own lives, and which was very emotive. Thus much of the potential conflict was present in the group in terms of a parallel process, which the group ultimately resolved by talking about the differences openly but also in a mutually respectful way. The resulting 'decision' by the group was to respect my autonomy as the therapist, to decide where the line should be between confrontation and avoidance. The resultant aim was to weave between the possibilities and gently guide a way to alternative observational viewpoints, thus neither confronting too harshly, nor avoiding the issues entirely, which is what I as a therapist felt comfortable with.
Unfortunately, the outcome always seemed to be likely to be unsatisfying to each member of the supervision group, as we would always like the people we see for therapy to end up in a place where they are likely to be able to build a better life for themselves and within this, intimate human relationships of a satisfying nature are highly valued. This was an instance in which the chosen solution was to distance herself from human intimacy, but the gain was to maintain a deep relationship with God and her community. It can be difficult for therapists and their supervision groups to let go of their own values and desires during therapy, but we think that this is a good example of a case where it was essential to be able to do so, both from a group and therapist perspective.
Acknowledgements: Thank you to my patient who has allowed us to share this with you and also to the supervision group.