Previous Page
Media Information and Resources
The spokesperson for matters relating to the Association for Cognitive Analytic Therapy is Liz McCormick. Please contact the ACAT Administrator in the first instance and she will be able to help direct your query as promptly as possible: Susan Van Baars at admin@acat.me.uk, telephone number 0844 8009496.
Any press releases or resources for the media will appear on this page.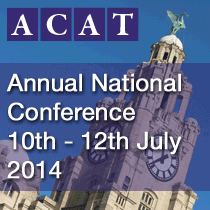 News from ACAT
Improving the effectiveness of Psychological Therapies for Depression and Anxiety Event offered by Healthcare Conferences.............
CAT for People with Intellectual Disabilities and their Carers A new book "Cognitive Analytic Therapy for People with Intellectual Disabilities and their Carers" edited by accredited ACAT members, Julie Lloyd and Phil Clayton, has just been published by Jessica Kingsley Publishers. Further details and order form...
ACAT Website Design Updates We have just launched a some updates to the ACAT website to help to make it easier to use, and easier to read....
2013 Conference Podcasts Online If you couldn't make the Annual Conference in 2013, or would like to listen again to some of the presentations you can now find them on the website....