Previous Page
Current Trustees of ACAT (2013-2014)
ACAT elects its Trustees at its Annual General Meeting. Trustees meet a minimum of three times a year in London.

The current Board of Trustees (from 22nd March, 2013 to 11th July, 2014) is as follows:
Jason Hepple – Chair
Robert Watson – Vice Chair
Stephen White – Treasurer
Jay Dudley
Liz McCormick
Peter Owen
Rosemary Parkinson
Norma Anderson
Ruth Carson
Sue Yabsley
Vicky Richer
Virginia West
At ACAT's last AGM on 22 March 2013:
Robert Watson and Sue Yabsley were re-elected as Trustees.
Robert Watson was also elected as Vice Chair.
New Trustees elected at the AGM were Rosemary Parkinson, Jay Dudley and Peter Owen (Lay Trustee).
ACAT welcomes them all in their new roles.
Thank you.......
Longstanding Trustees, Annalee Curran and Mark Westacott, stood down from the Board at the 2013 AGM and ACAT would like to thank them for the years of service and commitment they have given to the organisation. Both are past Chairs of ACAT and Annalee is also a founder member of ACAT. They will be greatly missed on the Board of Trustees for their invaluable wisdom, expertise and experience.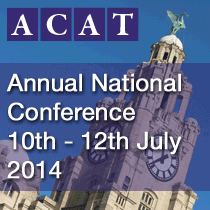 News from ACAT
Improving the effectiveness of Psychological Therapies for Depression and Anxiety Event offered by Healthcare Conferences.............
CAT for People with Intellectual Disabilities and their Carers A new book "Cognitive Analytic Therapy for People with Intellectual Disabilities and their Carers" edited by accredited ACAT members, Julie Lloyd and Phil Clayton, has just been published by Jessica Kingsley Publishers. Further details and order form...
ACAT Website Design Updates We have just launched a some updates to the ACAT website to help to make it easier to use, and easier to read....
2013 Conference Podcasts Online If you couldn't make the Annual Conference in 2013, or would like to listen again to some of the presentations you can now find them on the website....