Previous Page
ACAT Policies and Official Documents
Here you can find a list of our public information documents and policies. They are available in PDF format. If you do not have a PDF reader then you can download one for free from www.adobe.com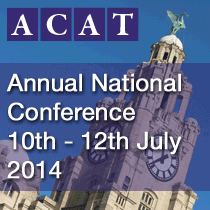 News from ACAT
Improving the effectiveness of Psychological Therapies for Depression and Anxiety Event offered by Healthcare Conferences.............
CAT for People with Intellectual Disabilities and their Carers A new book "Cognitive Analytic Therapy for People with Intellectual Disabilities and their Carers" edited by accredited ACAT members, Julie Lloyd and Phil Clayton, has just been published by Jessica Kingsley Publishers. Further details and order form...
ACAT Website Design Updates We have just launched a some updates to the ACAT website to help to make it easier to use, and easier to read....
2013 Conference Podcasts Online If you couldn't make the Annual Conference in 2013, or would like to listen again to some of the presentations you can now find them on the website....
Both CAT Practitioners and CAT Psychotherapists count as Psychological Therapists in the Centre for Workforce Intelligence Review The Centre for Workforce Intelligence (CfWI) have recently completed a Department of Health commissioned review of adult psychological therapies to improve workforce planning. Please take the time and opportunity to read the report, and to ensure tha...