Catalyse CAT Skills Case Management Training
25th January 2018 to 22nd June 2018
---
WARNING! This event has passed.
Catalyse CAT Skills Case Management Training 2018
CAT skills Case management Course: working with complex clients
(Including but not limited to adult mental health and forensic settings)
Dr Marisol Cavieres and Dr Karen Shannon
Accredited CAT therapists and Supervisors
Leading to Accreditation by the Association for Cognitive Analytic Therapy (ACAT)
We are delighted to announce the fifth National CAT skills course is to commence in January 2018.
This training is designed for workers in the health, caring and support worker roles to acquire a useful working understanding of CAT to inform their routine practice. Suitable for people working either in an inpatient, prison, or other accommodation based service, or within a community based service. Please note that the course does not train people to become individual therapists.
Trainees will be expected to have relevant experience of working with people in a professional role, usually most participants will be working in the health, supporting and caring professions. It is desirable to have some familiarity with psychological therapy approaches, and essentially an interest and aptitude for interpersonal and relational approaches
Venue
Liverpool at The Women's Organisation
54 St James Street
Liverpool L1 0AB
T +44 (0) 151 706 8111 (contact only for venue related matters)
Six Training days in 2018:
Thursday 25th January
Friday 26th January
Thursday 15th March
Thursday 5th April
Thursday 10th May
Friday 22nd June
This course is based on the successful six-month long, multi-professional skills training certificate in Cognitive Analytic Therapy (CAT) accredited by the Association for Cognitive Analytic Therapy (ACAT). It consists of six theory & skills training days combined with 35 hours of supervised clinical work, one personal development therapy session (½ day) and two reflective pieces of writing (2,500 words) on the use of CAT ideas and methods. The course aims to enable professionals with competence in their own mental health field to enhance their relational skills by using concepts and skills derived from CAT. It aims to equip trainees with core CAT concepts and skills to inform formulation, intervention, care planning and risk assessment, as well as general dialogue about service users within and across teams. The course promotes CAT as a common model and language to aid professionals to understand and support service users with the difficulties they face.
Cognitive analytic therapy combines a relational approach to cognitive and behavioural therapies with current aspects of psychodynamic thinking about personality problems and the helping relationship. It is a therapy, which has proven popular with a wide range of professionals responding to the complex needs of clients, thought of as 'hard to help'.
The course will focus on the use of CAT as a versatile method of formulating effective professional practice in adult mental health, forensic and other settings and will include the following areas:
• Using CAT concepts derived from CAT theory to develop relational formulation to inform assessment, formulation, intervention, sharing relational understanding with colleagues to inform care planning and discharge process.
• A framework for understanding and working with service users and colleagues in managing psychological and relational aspects of mental health, and personality disturbance and risky behaviours.
• It explores the relational origins of personality difficulties and trauma. Links between personality disorder, difficulty seeking and using help, offending behaviour and common mental health problems will be explored.
• Demonstrations by course leaders and practice by participants will address methods for working relationally and collaboratively with clients and in multi-professional teams; understanding and monitoring risk; and developing therapeutic understanding with clients in the context of everyday work.
• Where appropriate to the person's role, to develop skills in using mapping for handovers, team meetings, reflective practice supervision as a way of conveying a shared understanding in a clear, non- prescriptive and common language.
• Develop a shared language for inter professional work based upon CAT's approach to cognitive relational processes.
• Skills in using CAT to be establish and maintain with colleagues an understanding of client's needs, goals and vulnerabilities. ?
• Develop awareness of one's own patterns (from personal reformulation experience), those of the team and service and how they may be enacted with clients.
• Awareness of own contributions to enactment of unhelpful repeating patterns (reciprocal roles) with individuals and at a team/service level. To consider these factors when thinking about the client's presentation/engagement/risk difficulties
• The course serves as a good foundation for developing some clinical skills and developing skills in reflective practice in teams.
Who is this course for?
• The course will be of value for a range of professional, including but not limited to psychologists, psychiatrists, nurses, offender managers, therapists, counsellors, support workers, occupational therapists and social workers working within a variety of settings with some familiarity with psychological approaches and interest in and aptitude for interpersonal and relational approaches to working with issues of complexity.
• Completion of all courses component and submission of written work will allow course members Skills Certificate Accreditation by the Association for Cognitive Analytic Therapy (ACAT) in the UK.
• Participants can attend individually or as a group of colleagues. Elements of, or the entire course can be adapted and tailor made for in-house training.
What does the course involve?
• The skills certificate takes six months to complete and involves six days of theory and skills training, a personal development component (½ day), thirty five hours of telephone or small group supervision, depending on your locality. It is assessed through two reflective pieces of writing (2,500 words minimum) on your use of CAT ideas and methods. Participants will normally sign up for the whole course.
Testimonials from previous CAT Skills training:
"It was one of the few things I have attended over the years where I felt I am really learning and developing as a practitioner"
"I have learnt so much, both about the clients and my own expectations of myself and what is realistically achievable"
"I have found it really useful to think about my practice – not only in terms of one-to-one work with clients but also in formulating and understanding other dynamics within the team"
"CAT has taught me a lot about risk assessment and management in terms of being able to use a patient's formulation to obtain a richer understanding of exactly where the risky behaviour is located and likely triggers"
"I would recommend it to anyone working with the typically complex clients found in forensic settings"
"I think that the interactive nature of the training was also really helpful in developing skills, as opposed to more theoretical learning"
Course Directors and Trainers
Dr Marisol Cavieres is a CAT practitioner, supervisor and trainer. She is a trainer and tutor for the Catalyse CAT Practitioner Course based in Manchester (2011-present), co-founder of the ACAT Wiltshire CAT Training Centre, and co-Director of the ACAT accredited CAT skills certificate course, since 2011. Her professional background is clinical psychology and she works in the field of adult mental health. She has worked in a range of NHS services both in community and inpatient settings (acute mental health and high secure forensics) and currently works in independent practice. Her clinical areas of interest are working with adults with complex mental health problems particularly involving personality difficulties, and also using briefer CAT with a coaching focus to assist people with personal development goals and to enhance personal growth in the absence of a specified problem. She has published in the area of developing a CAT model for Antisocial Personality Disorder (ASPD).
She has provided CAT teaching and training throughout the UK and abroad. Areas of interest in CAT training are to mental health professionals offering therapy with clients, and training multidisciplinary staff teams within acute mental health inpatient settings, with a focus on using the here-and-now reformulatory tools of CAT mapping to assist with assessment, formulation and the development of collaborative relationally based management and care plans.
Dr Karen Shannon is an ACAT accredited practitioner, supervisor and trainer and Clinical Psychologist working in independent practice based in Liverpool. She is the Co-Founder of 'working with complex clients in mental health and forensic settings' national ACAT accredited skills course in 2009 and co-provided this course since then. She has taught CAT CPD courses for staff in a number of mental health and forensic institutions and in the voluntary sector throughout UK and Ireland. Karen is an invited trainer on the two-year Catalyse CAT Practitioner Training (PG Dipl) course.
Karen has many years experience working in forensic services. She has a longstanding commitment to working with marginalised, and 'hard to help' clients with mental health problems, personality disturbance and offending behaviour. She has broad experience of the application of CAT as a therapy and as a framework for consultation, relational care planning and systemic risk management. She is committed to using CAT to enhance staff skill and confidence in the development of relational approaches in the care and management of individuals with complex presentations.
Karen has published in the area of CAT and risk assessment/management; women non-offending partners; male aggression/violence and bipolar disorder & supervision of CAT in forensic settings. She is Director of ACAT 6 month CAT Skills Case Management Course provided for non mental health services working with Multiple Complex needs in Liverpool where she has been developing CAT as an organisational and case management framework since 2014.
External examiner
The moderator/examiner(s) will ensure that the training course meets the standards and requirements set by ACAT for Skills Level training.
Costs
Full accredited training certificate in CAT skills in working with Complex Clients is £1,795.00 (6 training days, 35 hours supervision, course work marking, ½ day personal development session and accreditation with ACAT).
Bank details
For BACs payments, Catalyse bank details are:
HSBC Bank Plc, Sheffield City
Account Name: Catalyse CAT Limited
Account No. 90602140
Sort Code: 40-41-57
Closing date for applications
Friday 24th November 2017
Enquiries
Dr Marisol Cavieres Tel 07754 117729 marisol.cavieres@gmail.com
Application Forms
Available for download at the end of this page and at the following link:
http://www.catalyse.uk.com/training/cpd/cat-skills-trainings/cat-skills-training-2018/
Please submit applications to Dr Marisol Cavieres at marisol.cavieres@gmail.com
or postal address available upon request.
Event Documents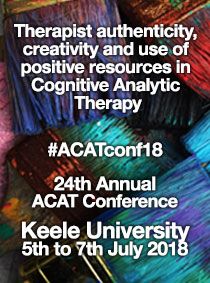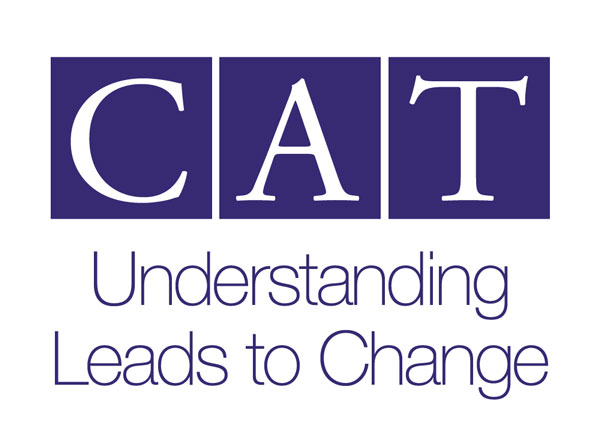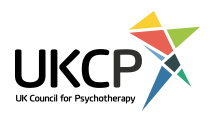 Our Next CAT Skills Training Courses
There are no CAT Skills Training courses listings at present.