Developing Embodied Awareness: A short residential course - offered by Caroline Dower
19th November 2017 to 22nd November 2017
---
WARNING! This event has passed.
Developing Embodied Awareness: A short residential course
Sunday 19th to 21st November 2017, Shepherds Dene, Riding Mill, Northumberland
Caroline Dower is repeating this well-received workshop, first offered in April 2016.
In all relational models of psychotherapy and counselling we are attending to the present moment. How do the therapist and patient experience each other in the here and now, and how is this reflected in the non-verbal dialogue or dance?
The aim of this training/ retreat is to provide a forum for trained therapists and counsellors to develop an embodied awareness of themselves and their patients, and how their bodies are moved in relationship. The sessions will be experiential in nature, working in dyads and small groups. Theory will be woven into the work and written material made available before and after the course but the focus will not be a theoretical one. The emphasis will be practical. We will investigate how this awareness informs and enriches our work, and how it enables us as therapists to take good care of ourselves as we use our own felt sense to help navigate our patients through their distress. It is not intended to be a group therapeutic process, but we will be actively promoting self-reflection and self-awareness developed in a relational context. For this reason the group will be open only to trained therapists who have experienced some psychotherapy or counselling themselves.
The venue will be Shepherds Dene, a retreat centre 30 minutes away from the rail and air links of Newcastle. We will begin at 4pm on Sunday afternoon and finish by 4pm on Tuesday afternoon. It is a beautiful Arts and Crafts house set in 20 acres of grounds. My intention is to offer a short course that is both stimulating and refreshing, for up to 15 participants.
The cost of £300 includes 14 hours of facilitated teaching, full board home-cooked food and accommodation for the two nights is available for 10 participants.
A reduced rate of £220 is available for 5 local participants, which includes all the teaching and meals, but not the accommodation.
If you have any questions please do not hesitate to contact me at carolinedower@hotmail.com
Link to the venue: www.shepherdsdene.co.uk
For more information and booking please see Event Documents below.
Event Documents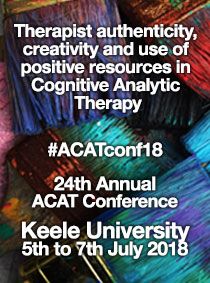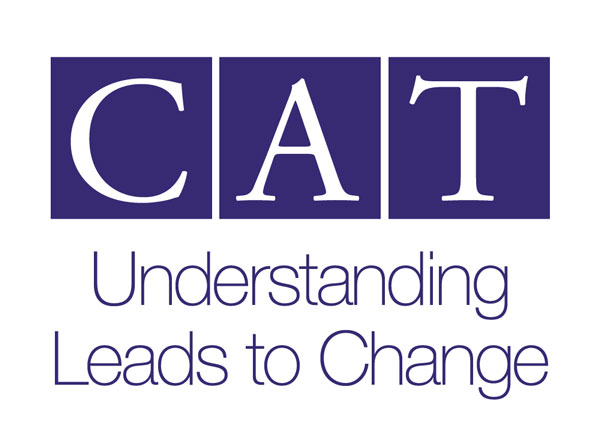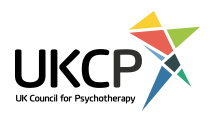 Our Next 7 CPD Events
13-04-18 CAT Research Conference - a joint ACAT & Catalyse eventEncouraging to Engaged ~ A one-day research conference for CAT Practitioners #CATres18 Date: Friday 13th April 2018 Time: 9.30am to 4.30pm Venue: Manchester Conference Centre, Sackville Street, Manchester M1 3BB Flyer & programme now avai...
25-04-18 Unmet needs and Unmanageable Feelings: CAT in Action - offered by South Wales CAT Training LtdUnmet Needs and Unmanageable Feelings: Cognitive Analytic Therapy in Action Jason Hepple, CAT Psychotherapist and Trainer and the former chair of ACAT, presents a day for CAT practitioners, CAT trainees and others interested in CAT. In the morning, ...
27-04-18 Mapping Mortality in CAT - offed by NECATNECAT (North East Cognitive Analytic Therapy) Mapping mortality in CAT 1-day workshop led by Mandy Wildman, Friday 27th April 2018, 9.30am – 4.30pm To explore the ways in which we can work with the difficult conversations about mortality in ...
12-05-18 CAT and helping clients with unmanageable feelings - offered by CAT SouthTo be held in Romsey, Southampton Presented by Dahlia Maslin This one-day workshop will cover the following: Introduction to personality disorder, including a discussion around the recent British Psychological Society publication: 'The Power T...
22-05-18 Life is about collecting stories - offered by Collaborate#CATnarr18 Life is about collecting stories - what do yours say? A one-day workshop exploring the use of ideas from Narrative Therapy to add a new richness to your practice of Cognitive Analytic Therapy (CAT) Narrative therapy This form of thera...
15-06-18 Two's company, is three a crowdTwo's company, is three a crowd? Including intimate others in sessions of individual CAT Presented by Alison Jenaway and Rajshree Weston #ACAT2318 Overview of the workshop: To consider the different ways of including intimate others in ind...
14-09-18 Two Day Introduction to CAT#ACATintro918 ACAT Introduction to Cognitive Analytic Therapy A two-day introduction to the skills and concepts in practice This highly-rated, short course is offered by ACAT for people new to the CAT way of working Friday, 14th and Saturday, 15t...