ACAT: CAT and the Embodied Mind
9th March 2018
---
This event is Fully Booked.
WARNING! This event has passed.
Key Areas in the Application of Neuroscience to Psychotherapy, Trauma and CAT
Introduction: A Taster and an Overview
#acatemb18
Venue: The Augustana Centre, 30 Thanet Street, London, WC1H 9QH
Times: 10am till 4:30pm
The aim of this seminar is to become more aware of how the neurosciences can inform our practice of psychotherapy: what we notice and reflect on during it, and how we think about and explain how, with whom, and where, CAT works – to our clients and our colleagues. And to explore together where CAT might be challenged, and where it needs to be enriched to be more effective in specific contexts.
Processes Focussed on:
1. Embodiment in Psychotherapy: Body, Brain, Mind, and Relating. Connection and attunement: Self with other, Self with self.
2. Affect Regulation and Dysregulation. Co-regulation and Self-regulation. Dissociation
3. Trauma and Trauma Therapy
4. Working with Self-Processes within the Embodied Mind
5. Principles, Processes and Elements of Therapeutic Change
These processes will be related to the brain and body as they are described and discussed, as well as to wellbeing, disorder or illness, deficits, trauma and dysfunction in development, and to the aims and methods of psychotherapy. Some experiential exercises will be used in conjunction with case examples.
Learning outcomes
The key learning outcomes of the day will be to use neuroscience to:
Deepen our use of self in relationship: connection and attunement, use of the transference and the practice of co-regulation of emotion both generally and in specific states and roles.
Further our understanding of trauma and trauma therapy, including the latest methods.
Assess ZPD, fine tune the aims of therapy and combine implicit and explicit processes to bring together the key ingredients of therapeutic change.
This is relevant to the following groups:
ACAT trainees, therapists and psychotherapists, supervisors and trainers
Presenter
John Bristow: I practice as a CAT psychotherapist, supervisor and trainer. Since the March 2015 trainers and supervisors meeting I have renewed my interest in neurobiology as applied to development and psychotherapy and in reading the leading writers in this field. I have been an active member of the ACAT interest group on CAT and the neurosciences, which we call CAT and the Embodied Mind, since then. The CAT, Trauma and EMDR group merged with our nascent group in June last year and we have been sharing our experiences and ideas with members of the training committee as well as between ourselves. Annie Nehmad has run a seminar on this and I ran my first last December. Others are also running seminars on specific topics or therapies, such as EMDR or sensorimotor therapy, and incorporating these into CAT training as well as CPD. This year we will be posting handouts, slide presentations and references to papers, books and online resources on the ACAT website in the CAT and the Embodied Mind interest group area.
ACAT reserves the right to change programme content and presenters.
How to book
Book and pay by personal credit or debit card via the booking options below
By email attaching the booking form (downloadable from Event Documents below) to: alison.marfell@acat.me.uk
By post enclosing the booking form and a cheque to: ACAT, PO Box 6793, Dorchester, DT1 9DL
Enquiries
Terms and Conditions:
For event terms and conditions please visit https://www.acat.me.uk/page/acat+events+terms+and+conditions
Event Documents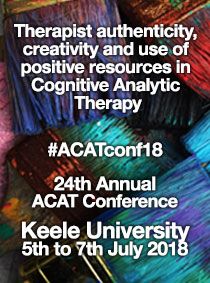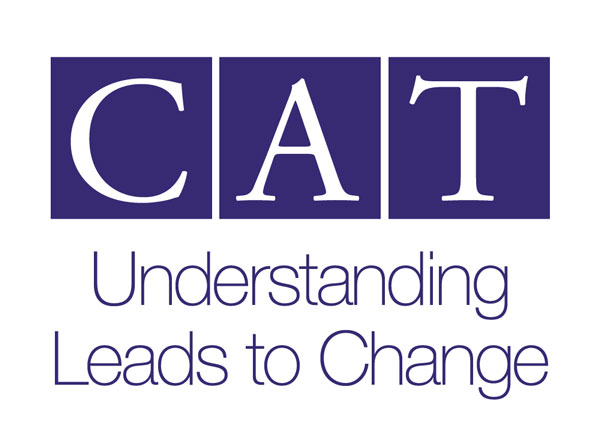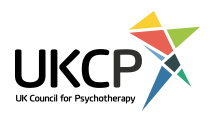 Our Next 6 CPD Events
21-09-18 ACAT: Understanding and resolving ruptures in the therapeutic relationship#ACATRup18 Overview / aims Decades of psychotherapy research demonstrates that the therapeutic relationship is fundamental to good outcomes in any therapy. Yet problems and ruptures to the therapeutic relationship are common and stressful, and they...
19-10-18 ACAT: Clinical Applications of Bakhtin in CAT - Dialogism in Action#ACATBakhtin18 Clinical Applications of Bakhtin in CAT – Dialogism in Action A practical one-day workshop that aims to bridge the meaning gap between the theory of dialogism and clinical practice in CAT Overview / aims Do you ever find your...
26-10-18 CAT & EMDR#ACATEMDR18 Presented by Mark Walker More information will be available soon...
08-11-18 An Introduction to Cognitive Analytic Therapy - offered by Sussex Partnership NHS Foundation Trust#CATinSussexIntro An Introduction to Cognitive Analytic Therapy A two-day course for mental health professionals Thursday 8th and Friday 9th November 2018 Conference Room 2, East Brighton Community Mental Health Centre, Brighton Genera...
30-11-18 PhysCAT Day#PhysCAT18 More information to follow soon...
30-11-18 CAT, ID & Trauma Conference - offered by the CAT LD Special Interest GroupCAT, ID and Trauma This conference is for people working or connected with intellectual disabilities who are interested in how the relational model of Cognitive Analytic Therapy can help us to navigate around complex situations. We know how trauma h...