Previous Page
CAT Supervisor Training
All accredited CAT Supervisors have completed the ACAT accredited Supervisor Training.
The ACAT Supervisor Training is based upon an apprenticeship model provided by ACAT for experienced CAT Practitioners and Psychotherapists to progress towards accreditation as a CATSupervisor.
The entry requirements and supervisor training pathway can be accessed by ACAT members once logged in by scrolling down this page to 'Supervisor Training Guidelines' and 'Application'.
The Supervisor Training Guidelines set the standards that are normally expected of those seeking to become supervisors. ACAT provides training days and other events for those undertaking supervisor training. Trainee supervisees are expected to take responsibility for seeking out a Senior (also known as "established") Supervisor and constructing their own programme of self-directed learning in collaboration with their Senior Supervisor, following the Guidelines. The Senior Supervisor has a similar level of responsibility to the course director on a training course. They are responsible for ensuring that the self-directed learning meets the developmental needs of the trainee supervisors, and may recommend further training or development as necessary. The Senior Supervisor must also be a fully paid-up member of ACAT. Any supervision carried out whilst not a member cannot be counted toward accreditation. Guidelines for Senior Supervisors are available for download at the end of this page.
The following is an outline of supervisor training - for elaboration of the Supervisor Training Guidelines please see the full document. Please note that this is what we would normally expect. If you feel that you do not fall within these guidelines, please contact ACAT.
Applicants will......
Be members of ACAT at either the Practitioner or Psychotherapist level. They will therefore have met the general criteria for admission to training in CAT.
Have completed 16 CAT cases (signed-off by their Supervisor).
Qualified as a CAT Practitioner / CAT Therapist for at least two years (2b) and be a continuous full member of ACAT.
Have established a link with a Senior Supervisor (a current member of ACAT and qualified as a Supervisor for a minimum of three years)
Then........
i Download the Guidelines and Application Form - available at the end of this page once logged-in (please scroll down)
ii Send the completed form to ACAT together with fee, CV and names of two referees. NB all signatures must be original (preferably in blue ink) - scanned/typed signatures or emailed applications cannot be accepted.
iii Decide on your training route :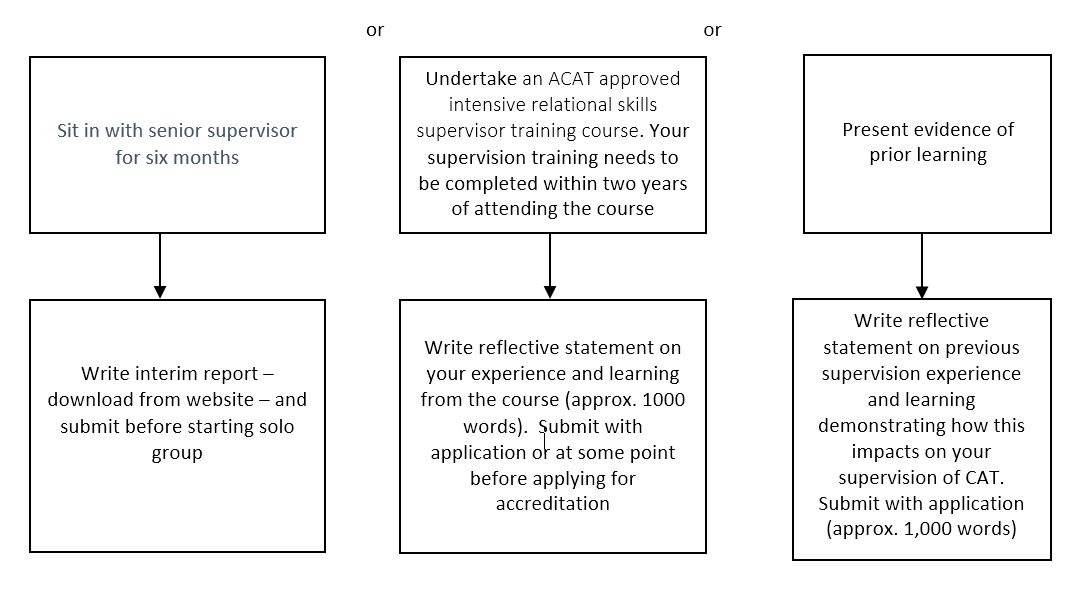 iv Attend CAT supervisor training days. These are not mandatory but if not attended we would like to see evidence of other supervisory training experience.
When this is completed........
i Start the supervision of your own group for 6 months under the supervision of your Senior Supervisor. If you have chosen to do an ACAT approved intensive relational skills supervisor training course as part of your training you may start your own training supervision group before undertaking the intensive training – however you must continue with this group until you have finished the intensive relational skills supervisor training.
NB: The supervisees in this group will not normally be on practitioner or psychotherapy trainings, as trainees on these courses have to be supervised by accredited supervisors. If a trainee supervisor supervises someone on a practitioner or psychotherapy training, the supervisor is responsible for informing the supervisee that the supervised cases will not count towards the cases required for the training course.
ii Download the Accreditation Submission Form - available at the end of this page once logged-in - all signatures must be original (preferably in blue ink) - emailed applications cannot be accepted.
iii Send the submission form, fee and final report from your Senior Supervisor to ACAT by the submission deadline set at least 3 weeks before the ACAT Exam Board (usually February, June and October each year) - please contact ACAT for the relevant submission deadline. Applications received after the deadline will be held over for consideration to the next Exam Board.
iv National External Examiner for Supervisor Training recommends accreditation.
v Accreditation is decided and formal notification is sent from the Chair of the Exam Board.
Accreditation and Award
Upon successful completion of supervision training, the trainee will receive a certificate from ACAT accrediting them as a CAT Supervisor.
If you are an ACAT accredited Psychotherapist and also a member of UKCP, you will be eligible on ACAT accreditation as a supervisor to join the UKCP Directory of Approved Supervisors as a Recognised Training Supervisor (RTS).

If you are an ACAT Practitioner and you become accredited as a CAT Supervisor you will be eligible to join the HIPC Directory of Approved Supervisors as a Recognised Training Supervisor.
The Supervisor Training Guidelines and application forms can be found below once you are logged in.
Revised April 2017
CAT Supervisor Training Courses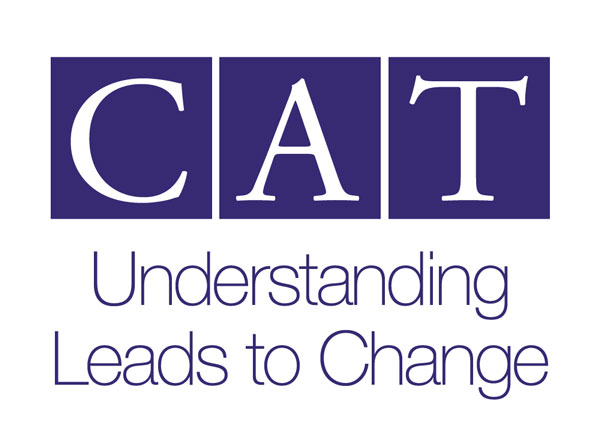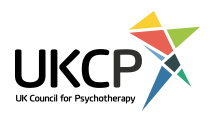 ACAT Calendar for October
Su
Mo
Tu
We
Th
Fr
Sa
1
2
3
4
5
6
77th October 2017
CPD Event: 3rd CAT Cumbria Event

8
9
10
11
12
1313th October 2017
Ethics Panel, London
Exam Board, London
Training Committee, London
Trustees, London

1414th October 2017
CPD Event: Working Collaboratively with Medically Unexplained Symptoms - offered by CAT South

15
16
17
18
19
20
21
22
23
24
25
26
27
28
29
3030th October 2017
CPD Event: The 5-Session CAT Approach - offered by Catalyse

31
Our Next CAT Supervisor Trainings
There are no CAT Supervisor Trainings listings at present.