Series of 4 workshops - CAT Embodied Relationship and Therapeutic Space
22nd June 2018 to 18th May 2019
---
#CATembody
A series of four two-day workshops
Presented by Tim Sheard
Dates: 22 & 23 June 2018, 12 & 13 October 2018, 8 & 9 February 2019, 17 & 18 May 2019
Times: 10.30am to 5.30pm Fridays, 9.00am to 4.00pm Saturdays
Cost: ACAT Member £600 (online) / £615 (invoice/cheque) | Non–member £620(online) / £635 (invoice or cheque)
Location: Dartington Hall, Totnes

A series of four two-day workshops on a Friday and Saturday and three Skype sessions in between (in groups of three).
Learning aims
To explore in more depth our own relational embodiment as therapists (and supervisors/trainers):
discover how embodiment renders reciprocal roles much more tangible and real, here and now
discover how conscious embodiment may enhance and strengthen our inherent relational capacities
clarify our self-to-self reciprocal roles, both healthy and problematic (particularly how we may take on burden and stress and then how we may reduce it) and how we take care of our own wounded child/self states when working in a session
gain a clearer sense of the kind of relational presence we offer our clients to engage with, then develop embodied flexible responsiveness in this
To practise, integrate and establish an embodied orientation in our everyday practice. This can effect fundamental changes to our experience of the therapeutic relationship. The intention is that each participant will be supported by the facilitator and the group to discover and establish their own particular style and approach to their own relational embodiment as a therapist
The focus is exploratory rather than didactic, and offers an opportunity to learn together and from each other within the continuity of a closed group spread over a year.
Although relevant in all therapeutic contexts the focus will be more on the particular difficulties and stresses of working within the relational fields of people suffering from developmental trauma.
The final workshop will include a short introduction to working with clients' embodiment, this could be the focus of a further series of workshops.
Last but not least: time out to reflect, digest and develop as therapists in a closed group and beautiful environment.
This is relevant to the following groups: Those who have completed at least one year of training in CAT, qualified in another relational therapy or who work with people suffering from developmental trauma. It is highly relevant to trainers and supervisors. It is preferable to have done an introductory workshop with Tim, if not please contact Tim directly at psychotherapy.tims@gmail.com to discuss.
Facilitator
Tim Sheard qualified as a CAT psychotherapist in 1997, has a background in medicine, and has trained in body psychotherapy, transpersonal and constellations work. Nowadays his teaching in the UK and Finland focuses on embodiment as a creative resource in mediating the therapeutic relationship, enhancing relational capacity and reducing therapist stress and burdening. This is described in the summer 2017 edition of 'Reformulation'.
Venue
Dartington Hall (www.dartington.org) offers excellent meeting rooms and has an extraordinary history in the early and mid-twentieth century of radical innovation in the arts, education, agriculture and social justice. The setting is beautiful in terms of gardens and medieval buildings, offers a good cafe and restaurant and, if wanted, has on-site accommodation including a hotel and a camp site in the warmer months of the year. In addition, former student accommodation may be available at a special rate of £35 per night B&B – please contact Tim at psychotherapy.tims@gmail.com to arrange. This will offer us a sense of containment, even retreat. Totnes railway station is five minutes taxi ride away and offers direct services to London, the midlands and the north.
Please note accommodation is not included and, if needed, is the responsibility of the delegate.
ACAT reserves the right to change programme content and presenters.
How to book
Book and pay by personal credit or debit card online instantly via the booking options below
By email attaching the booking form (see Event Documents below to download) to: alison.marfell@acat.me.uk
By post enclosing the booking form (see Event Documents below to download) and a cheque to: ACAT, PO Box 6793, Dorchester, DT1 9DL
Enquiries
Terms and Conditions:
For event terms and conditions please visit https://www.acat.me.uk/page/acat+events+terms+and+conditions
Booking
You can book this event online if you are registered or logged into this site. Click here to register or log in using the boxes at the top of this page.
Cost
Event Documents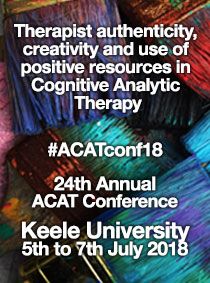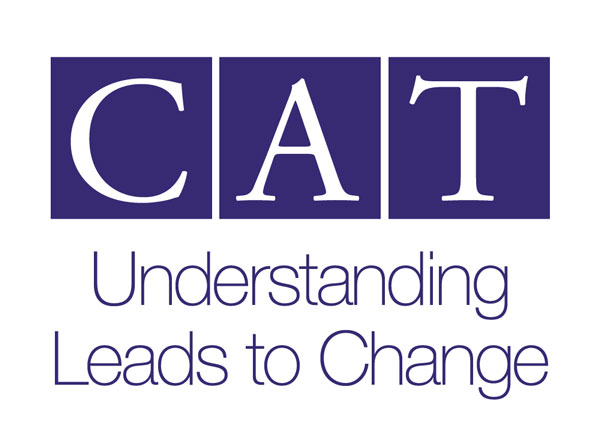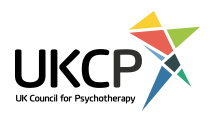 Our Next 6 CPD Events
22-05-18 Life is about collecting stories - offered by Collaborate#CATnarr18 Life is about collecting stories - what do yours say? A one-day workshop exploring the use of ideas from Narrative Therapy to add a new richness to your practice of Cognitive Analytic Therapy (CAT) Narrative therapy This form of thera...
30-05-18 Embodiment, Relational Space & Working with Trauma to the Sense of Self - offered by Catalyse#CATerst18 A two-day workshop with Tim Sheard Overview of workshop: This workshop focuses on how engaging with our own embodiment as therapists may enhance our relational capacities and help free up stuck and overwhelming processes when working wi...
15-06-18 Two's company, is three a crowdTwo's company, is three a crowd? Including intimate others in sessions of individual CAT Presented by Alison Jenaway and Rajshree Weston #ACAT2318 Overview of the workshop: To consider the different ways of including intimate others in ind...
22-06-18 Series of 4 workshops - CAT Embodied Relationship and Therapeutic Space#CATembody A series of four two-day workshops Presented by Tim Sheard Dates: 22 & 23 June 2018, 12 & 13 October 2018, 8 & 9 February 2019, 17 & 18 May 2019 Times: 10.30am to 5.30pm Fridays, 9.00am to 4.00pm Sat...
20-07-18 Exploring Issues of 'Race', Culture & Language within a CAT Framework - offered by Catalyse#CATrcl18 "Exploring Issues of 'Race', Culture & Language within a CAT Framework" led by Jessie Emilion, CAT Psychotherapist & Supervisor Overview of workshop: This day offers an opportunity to develop confidence and s...
14-09-18 ACAT Two Day Introduction to CAT#ACATintro918 ACAT Introduction to Cognitive Analytic Therapy A two-day introduction to the skills and concepts in practice This highly-rated, short course is offered by ACAT for people new to the CAT way of working Friday, 14th and Saturday, 15t...