Previous Page
Recommended Reading List
Rachel Kelly (Thursday Keynote)
The Happy Kitchen: Good Mood Food, published by Short Books, is about eating to stay calm and well. Together, over 5 years, Alice Mackintosh and Rachel developed recipes that put around 150 nutritional studies into practice. They've helped Rachel to become more energised, less anxious, clearer thinking, more balanced and a better sleeper.
Walking on Sunshine offers 52 tips, tools and positive ideas (one for each week of the year) to help you better manage the pressures of everyday life. Rachel shares the strategies that have helped her stay calm and happy after overcoming two episodes of severe depression. Some of the steps relate to particular experiences and events, such as holidays, work and her children's exams; others are useful at any time. Written in the confidential, conversational style of a good friend and illustrated by Daily Mail cartoonist Jonathan Pugh, Walking on Sunshine serves as a constant, supportive companion through the seasons.
Black Rainbow is the powerful first-person account of Rachel's struggle with clinical depression and how she managed to recover, in part, through harnessing the healing power of the written word. In 1997, Oxford graduate, working mother and Times journalist Rachel went from feeling mildly anxious to being completely unable to function within the space of just three days. After a short spell in a psychiatric hospital, she returned home to be cared for by her family.
Now in its fourth edition, iF: A Treasury of Poems for Almost Every Possibility is a beautifully illustrated collection of poetry designed for children aged 0 – 90. The anthology is edited by Rachel and Allie Esiri and was first published by Canongate Books in 2012. Full of Rachel and Allie's best-loved poems, it is sure to delight and entertain – a sentiment shared by poet laureate Carol Ann Duffy who said the book should feature on the shelf of every child in Britain.
Prof Helen Odell-Miller OBE (Friday Keynote)
Odell-Miller, H.; (2014) The development of clinical music therapy in post-war Britain as a profession in mental health practice: music, health and therapy' in S. Goodman and V. Bates (eds.) Medicine, health and the arts in post war Britain London: Routledge
Odell-Miller, H (2001) "Music Therapy and its relationship to Psychoanalysis" In Where Analysis Meets the Arts. Pub. Karnac London
Pool, J. and Odell-Miller, H. (2011)'Aggression in music therapy and its role in creativity with reference to personality disorder' Arts and Psychotherapy 38 (2011) pp.169-177
Jay Dudley (Friday Keynote)
Standing in the Spaces: Essays on Clinical Process Trauma and Dissociation Author: Philip M. Bromberg (ISBN: 9780881633566)
Relationality: From Attachment to Intersubjectivity Author: Mitchell, Stephen A. Publisher: Hillsdale, NJ: Analytic Press, 2000.
An Introduction to Object Relations Author: Lavinia Gomez. Published by Free Association Books 1997-01-01, London (1997)
Dialogism: Bakhtin and his world. Author: Michael Holquist. London: Routledge, 1990
Siva Suresh & Ewa Debska (Friday workshop)
Emilion, J. & Brown, H. (2017) 'Intercultural Supervision Acknowledging cultural differences in supervision without compromise or complacency', in Pickvance, D. (1st edition) Cognitive Analytic Supervision - A relational Approach. New York: Routledge, pp. 109 -121.
Pollard, R. (2001) Some of the Historical and Cultural Background to the Self. Reformulation, ACAT News Autumn.
Toye, J. (2003) Cultural Diversity and CAT. Reformulation, Autumn, pp.25-29.
Geertz, C. (1973) The Interpretation of Cultures. New York: Basic Books, Inc.
Monagahan, J. & Just, P. (2000) Social and Cultural Anthropology: a Very Short Introduction. Cornwall: TJ International Ltd.
Intercultural Therapy: Themes, Interpretations and Practice. Edited by J. Kareem and R. Littlewood.
Prof Mick Cooper (Friday Keynote)
Cooper, M. (2012). A hierarchy of wants: Towards an integrative framework for counselling, psychotherapy and social change. University of Strathclyde. Glasgow. Retrieved from download from pure.strath.ac.uk/portal
Cooper, M. (2018). The psychology of goals: A practice-friendly review. In M. Cooper & D. Law (Eds.), Working with goals in counselling and psychotherapy. Oxford: Oxford University.
Cooper, M., & McLeod, J. (2011). Pluralistic Counselling and Psychotherapy. London: Sage.
Dr Katherine Easton (Saturday Keynote)
Jason Hepple (Saturday workshop)
Hepple, J (2012). Cognitive Analytic Therapy in a Group: Reflections on a Dialogic Approach. British Journal of Psychotherapy, 28 part 4, pp 474-495.
Hepple, J and Bowdrey, S (2015). Cognitive Analytic Therapy in an open dialogic group – adaptations and advantages. Reformulation 43:16-19
Elizabeth McCormick (Saturday workshop)
John Fox. Finding what you didn't lose
John Fox. Poetic medicine
Theresa Turner (Saturday workshop)
Attwood, T., 1997. Asperger's syndrome: A guide for parents and professionals. Jessica Kingsley Publishers.,
Koenig, K. and Levine, M., 2011. Psychotherapy for individuals with autism spectrum disorders. Journal of Contemporary Psychotherapy, 41(1), pp.29-36.
Shapiro, T., 2009. Psychotherapy for autism. Journal of Infant, Child, and Adolescent Psychotherapy, 8(1), pp.22-31.
Woods, A.G., Mahdavi, E. and Ryan, J.P., 2013. Treating clients with Asperger's syndrome and autism. Child and adolescent psychiatry and mental health, 7(1), p.32.
Gaus, V.L., 2011. Adult Asperger syndrome and the utility of cognitive-behavioral therapy. Journal of Contemporary Psychotherapy, 41(1), pp.47-56.
Gaus, V.L., 2011. Living well on the spectrum: How to use your strengths to meet the challenges of Asperger syndrome/high-functioning autism. Guilford Press.
Mount, P., Brown, H., Wilberforce, D., Crowther, S., Morrison, P., Potter, S., Crowley, V., Elford, H., Murphy, N., Varela, J. and Anwyl, M., 2013. Cognitive analytic therapy for people with intellectual disabilities and their carers. Jessica Kingsley Publishers (chapter 5 and 11).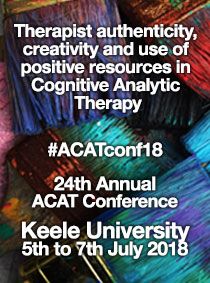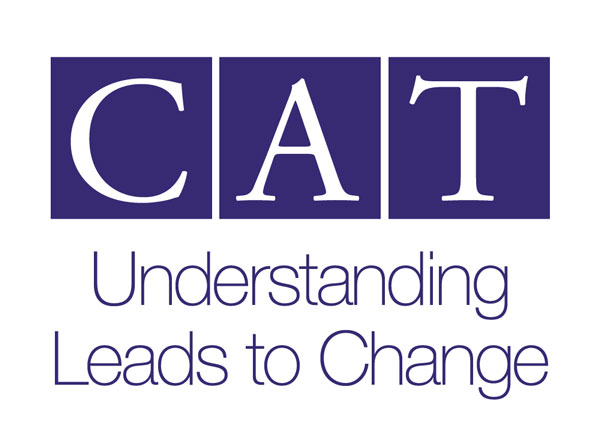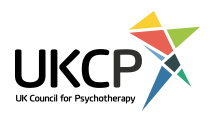 ACAT Calendar for June
Fr
Sa
Su
Mo
Tu
We
Th
1
2
3
4
5
6
7
8
9
10
11
12
13
14
1515th June 2018
CPD Event: Two's company, is three a crowd

16
17
18
19
20
21
2222nd June 2018
CPD Event: Series of 4 workshops - CAT Embodied Relationship and Therapeutic Space

23
24
25
26
27
28
29
30
News from ACAT