Previous Page
Speakers
Thursday

The Healing Power of Words: How Poetry Helped Me Recover from Depression
Rachel Kelly, writer and mental health campaigner
Abstract
Bibliotherapy is a therapeutic approach that uses literature to support good mental health and which was a key part of the writer Rachel Kelly's recovery from depression. Rachel recounts her personal story and how she went from suffering with depression and anxiety to feeling calm and well using the healing power of poetry, a story she described in her Sunday Times bestseller 'Black Rainbow: How words healed – my journey through depression'. She describes in her talk why poetry meant so much to her, and shares some of the poems that helped her get better.
Biography
Since being diagnosed with depression in her early thirties Rachel has written about the condition, and how she has recovered. Her memoir "Black Rainbow" was a Sunday Times bestseller, her second book "Walking on Sunshine: 52 Small Steps to Happiness" is an international bestseller, and her latest book "The Happy Kitchen: Good Mood Food" was published in January 2017.
As someone who has been affected by depression, Rachel knows that stigma about mental illness is alive and well, not just from others but also in the minds of those affected. Rachel is honoured to be an ambassador for Rethink Mental Illness, SANE, YOUNG MINDS and The Counselling Foundation.
Creativity, Therapeutic creativity and the Zone of Therapist's Development
Dr Carol Gregory, Psychiatrist and Cognitive Analytic Therapist
Abstract
Responding to Rachel Kelly's talk I will explore what creativity is, and how we understand it and facilitate its development within therapy. I will also explore, using clinical and personal examples, the idea of the therapist's zone of proximal development – how do we allow ourselves to learn, to take risks, make our work truly collaborative and allow it to surprise us –and when is this process inhibited.
Biography
I trained as a psychiatrist in Oxford and Cambridge before being appointed as a Consultant Old Age Psychiatrist in Cambridge. I accompanied my family to Sydney, Australia in 2008 and worked as a fly-in Psychiatrist in Rural New South Wales. Whilst living in Sydney I commenced training in psychodynamic psychotherapy and completed the clinical elements on my return to the UK where I also trained as a Cognitive Analytic Therapist and subsequently as a supervisor. I have trained in EMDR. I currently work in the Liaison Psychiatry department in Cambridge offering CAT for severe MUS and conditions. I have a small private practice.

Friday

Authenticity in the adult music therapy relationship - whose music is it anyway?
Professor Helen Odell-Miller OBE
Abstract
In the music therapy relationship patient and therapist often play music together, which involves meeting within a non-verbal as well as verbal context. Through spontaneous thoughtful interaction moment to moment the therapist connects musically with the patient's internal emotional world. Thus the resulting improvisation is a piece of music which is created by both, and shared in time. Music can provide structure and lead to cognitive and emotional change. It is through this process that new meaning can be discovered, explored, and changes in the relationship, the music, and ultimately for the patient, can happen. The therapist needs to enter into dialogue using musical instruments, in order for connections, flow and change to happen. How authentic is the music played by both therapist and patient in this process, what is inauthentic and whose music is it anyway? The paper will explore authenticity within the therapeutic relationship especially when words are not the main focus, drawing upon recent aesthetic and philosophical research and clinical examples primarily from music therapy. The paper will also examine literature from the psychotherapy and psychoanalytic field and draw some conclusions about authenticity in the therapeutic relationship.
Biography
Helen Odell-Miller is a Professor of Music Therapy, and Director of The Cambridge Institute for Music Therapy Research at Anglia Ruskin University, Cambridge. Prior to that she worked for many years in the NHS as a music therapist and Head of Arts Therapies, specifically developing music therapy approaches informed by psychotherapy and psychoanalysis. Her research and clinical work has contributed to establishing music therapy as a profession, over 40 years. Helen has published and lectured widely, and has been a keynote speaker at many national and international conferences in Europe, Australia and the USA. She has worked with parliament and the government advising on music therapy. She is co-editor and an author for the books Supervision of Music Therapy (Jessica Kingsley 2009), Forensic Music Therapy (Routledge 2013)and Collaboration and assistance in music therapy practice. She has published widely in national and international peer reviewed journals. She is a violinist, pianist, and sings in Cambridge Voices.
Authenticity and Ripples in the fabric of Being: How authenticity 'forces its way uninvited, to the threshold of consciousness' (Philip Bromberg)
Jay Dudley
Abstract
Living and being in the world can often be a process of survival where someone has learned the art of controlling the environment from behind a mask.
The self, in these circumstances, is trying to live, and find meaning, where meaning has been robbed: the 'false self' (as described by Winnicott) is created with the available debris as a response to the absence of environmental provision, and is sign-mediated through the dominant Reciprocal Role discourse. This false self - however apparently outwardly intact - rings hollow and inauthentic.
Beneath there is turmoil and conflict (the basic fault beneath the surface – Balint, or the fissure in Being - Holquist) with often strong desires and demands to annihilate, and split off, unwanted aspects of the self.
The realisation that masterful, and elaborate, defensive creations have to be given up – surrendered – before change or a 'new beginning' (Balint) can emerge or take shape, presents a daunting prospect in respect to the psychotherapeutic task in hand.
I will explore how real personal authenticity is made manifest when what's missing is revealed. I will develop the idea of meaning and authenticity being revealed through ripples in the fabric of Being: where 'responsive understanding' from us as therapists (Bakhtin) can give life to meaning, and in turn give meaning to life.
Biography
Currently working as a Psychotherapist in a specialist Personality Disorder Service in Devon Partnership NHS Trust
Previous CAT Service Lead and joint Course Director (Somerset Partnership NHS Trust)
Visiting Trainer for CAT component on Exeter Doctorate in Clinical Psychology.
Directionality, synergy and social justice: CAT's contribution to an integrative framework for psychological and social change
Mick Cooper, Professor of Counselling Psychology, University of Roehampton
Abstract
With over 500 therapies in existence, the field of counselling and psychotherapy can be both a treasure trove of insights and practices; and a bewildering mess of models, paradigms and practices. Diversity can be wonderful: but it can also confuse clients, and make it difficult for therapists to draw on understandings and methods from other approaches. In this keynote talk, Mick will outlines a framework for conceptualising counselling and psychotherapy that strives to provide an integrative basis for a wide range of therapeutic perspectives and practices, including CAT. The model, rooted in existential philosophy, is orientated around an understanding of clients as 'directional': striving to do their best in their circumstances, but struggling to actualise their desires and goals because of competing directions, ineffective means of moving forward, and social limitations. The presentation will show how a diversity of therapeutic models, as well as social justice principles, can be integrated into this basic framework, how it aligns with CAT, and also the unique contribution that CAT can make to developing such an integrative framework for counselling and psychotherapy.
Biography
Mick Cooper is Professor of Counselling Psychology at the University of Roehampton, where he is Director of the Centre for Research in Social and psychological Transformation (CREST). Mick is a chartered psychologist, a UKCP-registered psychotherapist, and a Fellow of the British Association for Counselling and Psychotherapy (BACP). Mick is author and editor of a range of texts on person-centred, existential, and relational approaches to therapy; including Working at Relational Depth in Counselling and Psychotherapy (2nd ed., Sage, 2018, with Dave Mearns), Pluralistic Counselling and Psychotherapy (Sage, 2011, with John McLeod), and Existential Therapies (2nd ed., Sage, 2017). Mick has led a series of research studies exploring the processes and outcomes of humanistic counselling with young people. Mick is the father of four children and lives in Brighton on the south coast of England.

Saturday

Using technology to support CAT practice: CAT application for client engagement
Dr Katherine Easton, Research Scientist
Abstract
In this session the co-design, development and feasibility testing of an 'app' to support clients in cognitive analytic therapy will be presented. The need for this technology has been led by patients. CAT patients become more aware of how they contribute to their own difficulties as the first step in change. This relational awareness is central to CAT, but currently self-monitoring tasks are paper-based and patients have repeatedly reported that it is inconvenient or embarrassing to do this, especially when seen by others.
We have developed a prototype version of CAT-app through effective collaboration between the University of Sheffield (TUoS), and Catalyse (a small business offering CAT in the independent sector). This prototype was developed in collaboration with key stakeholders; national survey with CAT therapists, co-design sessions with CAT therapists and previous CAT patients and successful pilot feasibility study in Catalyse with N=10 patients receiving 16 session CAT. The trial is now complete and we have conducted exit interviews with patients and therapists.
The session will cover:
The use of digital technology in mental health care
The value of the co-design process in developing interventions
The methods of our work
A tour of the app
The results of the feasibility study
Strengths and limitations of the project
Next steps
Biography
Katherine is a health services researcher at the University of Sheffield, honorary researcher at Sheffield Health and Social Care Trust, chartered psychologist and associate fellow of the British Psychological Society. She has been working in the area of technology supported mental health for the past 13 years in the School of Health and Related Research at Sheffield and previous to that at the School of Nursing at Manchester University.
She collaborates with academics, clinicians, charities, industry and the general public to develop, evaluate and technology supported interventions and services for vulnerable groups including people with mental health conditions and/or long term physical conditions.
She lectures in health psychology and behaviour change and supervises postgraduate students.
She has two young girls, age 6 and 9 and two older step children age 14 and 17 and she lives in Glossop in the Peak District, which means she can often work at home as a result of road closures due to snow, wind or any other weather conditions other than 'warm with a light breeze'.
Creativity and CAT - A playful approach
Dr Jo Varela
Abstract
This presentation describes how to start where the client is in their understanding of their difficulties using creative approaches in order to make the CAT model more accessible to people who might otherwise find it difficult to access the model, such as children or people with cognitive or communication impairment. The presentation will support CAT therapists to understand how to develop a shared communication with the client based on play, music, gaming and other interests that are important to them and shows how to use this starting point to explore, express and reformulate using the CAT model. The presentation will use examples from work with children and their families, and other groups who would otherwise find it hard to access the traditional model.
Biography
Jo Varela is a CAT practitioner and Consultant Clinical Psychologist. She has worked with children, young people and adults with and without learning disabilities using the CAT model for a number of years. Starting where the client is and creatively and collaboratively making meaning.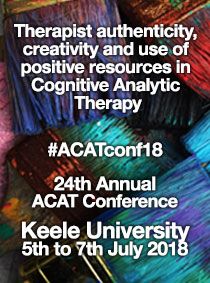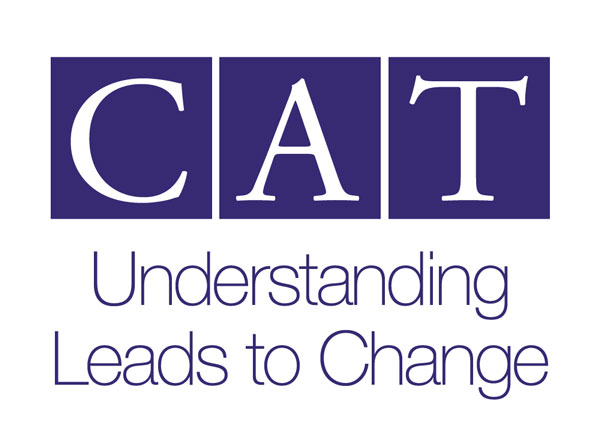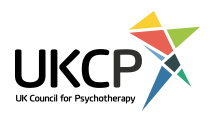 ACAT Calendar for May
Tu
We
Th
Fr
Sa
Su
Mo
1
2
33rd May 2018
CAT Introductory Event: Introduction to CAT - a 2 day course offered by Sussex Partnership NHS Foundation Trust

4
5
6
7
8
9
10
11
1212th May 2018
CPD Event: CAT and helping clients with unmanageable feelings - offered by CAT South

13
14
15
16
17
18
19
20
21
2222nd May 2018
CPD Event: Life is about collecting stories - offered by Collaborate

23
2424th May 2018
CAT Introductory Event: ACAT Two-Day Introduction to CAT

25
26
27
28
29
3030th May 2018
CPD Event: Embodiment, Relational Space & Working with Trauma to the Sense of Self - offered by Catalyse

31
News from ACAT