Previous Page
Who's Who in ACAT / Contact Us
The ACAT Administration office is based in Dorchester:
ACAT
PO Box 6793
Dorchester
DT1 9DL
Administration Manager:
Susan Van Baars
Email: admin@acat.me.uk || susanvanbaars@acat.me.uk
Monday to Thursday | 9am to 5pm
Main Office Phone: 0844 800 94 96 [5p per minute at all times]
Administrator:
Maria Cross
Email: maria.cross@acat.me.uk
Monday to Wednesday | 9am to 5pm and Thursday | 9am to 2pm
Main Office Phone: 0844 800 94 96 [5p per minute at all times]
Liaison Officer:
Post currently vacant
ACAT is a Registered Charity and a Limited Company Registered in England
Registered Charity No 1141793
Company No 06063084

Registered Office:
8 Unity Street, College Green, Bristol BS1 5HH

If you are logged in as a registered user/member of the site you will be able to send email directly through the links on this page.
ACAT's Holders of Office
Honorary President: Tony Ryle
Chair of ACAT: Jason Hepple
Vice Chair of ACAT: Robert Watson
Treasurer of ACAT: Stephen White

ACAT Committee Chairs / Vice Chairs:
Chair of ACAT Training Committee: Anna Jellema
Chair of ACAT Exam Board: Shirley Akgun
Chair of Ethics Panel: Catherine McCarter - c/o Susan Van Baars [ACAT Administrator]
Vice Chair of Supervisor Training: Steve Potter
Vice Chair Accreditation of Prior Learning: Sally-Anne Ennis
National Examiner for Supervisor Training: Jane Stephens [for all enquiries relating to Supervisor Training]
ACAT/SHU Liaison Representative: Dawn Bennett
ACAT's UKCP Rep (HIPC): Jessie Emilion
Research Support Group Co-ordinator: Robert Watson
Vice Chair of Public and Membership Services: vacancy
Trainee Representative: vacancy

Editors of Reformulation (the newsletter for ACAT): email reformulation@acat.me.uk
Co-Editor: Julie Lloyd
Co-Editor: Annie Nehmad
Co-Editor: Rachel Pollard
Assistant Editor: Tony Ryle
Editorial Advisor: Jason Hepple

E-Newsletter Editor: Liaison Officer

Contact for Buying 'CAT Chat' Videos:
Contact: Irene Elia

Contact for Buying the Tony Ryle and CAT Scotland Informal Seminar DVD
Contact: Susan Van Baars [ACAT Administrator]

ACAT Website
Website Support: Jon Sloper - email support@acat.me.uk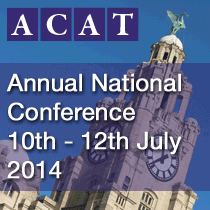 News from ACAT
Improving the effectiveness of Psychological Therapies for Depression and Anxiety Event offered by Healthcare Conferences.............
CAT for People with Intellectual Disabilities and their Carers A new book "Cognitive Analytic Therapy for People with Intellectual Disabilities and their Carers" edited by accredited ACAT members, Julie Lloyd and Phil Clayton, has just been published by Jessica Kingsley Publishers. Further details and order form...
ACAT Website Design Updates We have just launched a some updates to the ACAT website to help to make it easier to use, and easier to read....
2013 Conference Podcasts Online If you couldn't make the Annual Conference in 2013, or would like to listen again to some of the presentations you can now find them on the website....
Both CAT Practitioners and CAT Psychotherapists count as Psychological Therapists in the Centre for Workforce Intelligence Review The Centre for Workforce Intelligence (CfWI) have recently completed a Department of Health commissioned review of adult psychological therapies to improve workforce planning. Please take the time and opportunity to read the report, and to ensure tha...
Our Next 3 Events
14-05-14 Establishing and Running a CAT Group - offered by CatalyseEstablishing and Running a CAT Group A one-day workshop offered by Catalyse Wednesday, 14th May 2014 9:30am to 4:30pm Dalton Ellis, Manchester, M14 5RL Cost: ACAT Member £95 / Non-member £120 A Practical Guide to the Process of Reviewi...
23-05-14 The Dialogic Self in CAT - offered by CAT SouthThe Dialogic Self in CAT Or: all you need to know about Bakhtin but were afraid to ask! Jason Hepple Friday, 23rd May 2014 - Romsey, Hampshire This all day workshop is suitable for a wide range of participants ranging from those with some backgro...
05-06-14 CAT Skills for working with Complex Clients in Mental Health or Forensic Settings'Cognitive Analytic Therapy (CAT) Skills for working with Complex Clients in Mental Health or Forensic Settings Suitable for those working with clients on an individual basis, within a group or a team, or in a ward or prison based setting, wh...