Tips for Using the New ACAT Website - Part Two
Here's the second of our short guides on how to make the most of the new ACAT website, introducing some of the features that you can now find on ACATonline.
---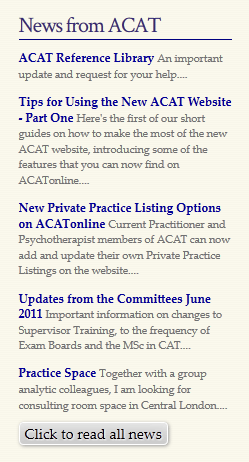 News and Events
As this story shows there's lots of news and information being published by ACAT on the website. One of the major changes to be found on the site now is the gathering of all the news into one place, and flagging up current stories in a much more obvious way to visitors.
All the news can now be read here:
And you'll also find links to the top stories in the right hand column of the home page of the website.
We've also done the same for all our current event listings, with a whole page given over to ACAT events and training information.
You can view the event information here:
---
Checking Accreditation
An important consideration when choosing a therapist to see is whether or not they are properly qualified. At present there is no statutory register of therapists that you can check (unlike for doctors or lawyers).
To help with this, ACAT has put together a list of all accredited CAT therapists on this site, so you can check whether someone is a genuine and properly trained CAT therapist. The list shows people who have been accredited as a CAT Practitioner or Psychotherapist from an official training course that is recognised by ACAT.
You can view the list here:
If you need any more information then please get in touch with the ACAT office: admin@acat.me.uk
---
Logging into the Website
Please who have previously registered with ACAT can still log in with their previous registered login information.
If you've forgotten your login details then you can request that they be sent to your registered email address.
Click here to request a Log In reminder.
---
Other Related News Stories from the Archives
---
---
---
---
---