Previous Page
Events and CPD
ACAT promotes and supports a number of events aimed at ACAT members and those interested in Cognitive Analytic Therapy. Some of the events are specifically targetted to meet the needs of practising CAT therapists, others are more wide-ranging in subject but may still be useful to CAT therapists or others with a general interest in psychotherapy.

Forthcoming events and workshops are listed below. Click on the "details" link to see the full event information.
For a full list of forthcoming Training in CAT courses (ie Practitioner, Psychotherapist, Skills) please click here: http://www.acat.me.uk/page/training
scroll down the page you are taken to, to see the full summary list.
Current ACAT and CPD Events
ACAT Annual Conference

---

---

ACAT AGM

---

ACAT CPD Events

---

Local Group Events - Bookable Via ACAT

---

Local Group Events

---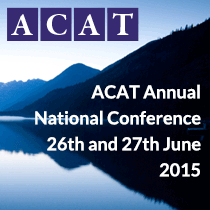 Our Next 3 Events
06-03-15 CAT and Relationships: Finding a helpful dialogue for couples in trouble offered by CAT SouthSPEAKER: CHERRY BOA on Friday 6th March 2015 – 9am for 9.30 am start – 4.30pm at CANTLEY HOUSE HOTEL, MILTON RD, WOKINGHAM, W. BERKS RG40 5QG This all day workshop is suitable for a wide range of participants ranging from those wi...
13-03-15 Problems in SupervisionProblems in Supervision Rising to the Challenge… Offered by Catalyse and led by Glenys Parry and Debby Pickvance Date: Friday, 13th March 2015 (postponed from 26th September 2014) Time: 9:30am – 4:30pm Venue: GMCVO, Manchester M12 ...
19-03-15 ACAT Introduction to Cognitive Analytic TherapyIntroducing Cognitive Analytic Therapy (CAT) A two-day introduction to the skills and concepts in practice This highly-rated short course is offered by ACAT for people new to the CAT way of working Date: Thursday, 19th and Friday, 20th March 201...