Previous Page
Events and CPD
ACAT promotes and supports a number of events aimed at ACAT members and those interested in Cognitive Analytic Therapy. Some of the events are specifically targetted to meet the needs of practising CAT therapists, others are more wide-ranging in subject but may still be useful to CAT therapists or others with a general interest in psychotherapy.

Forthcoming events and workshops are listed below. Click on the "details" link to see the full event information.
For a full list of forthcoming Training in CAT courses (ie Practitioner, Psychotherapist, Skills) please click here: http://www.acat.me.uk/page/training
scroll down the page you are taken to, to see the full summary list.
Current ACAT and CPD Events
ACAT Annual Conference

---

---

ACAT AGM

---

ACAT CPD Events

---

Local Group Events - Bookable Via ACAT

---

Local Group Events

---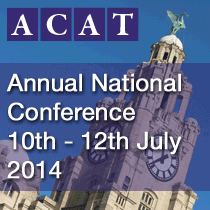 Our Next 3 Events
07-03-14 ACAT Trainers and Supervisors MeetingACAT's Annual Meeting of Trainers and Supervisors 2014 5.00 pm Friday, 7th March to 4.00 pm Saturday, 8th March 2014 Radisson Blu Portman Hotel, 22 Portman Square, London W1H 7BG All bookings for this event must be received by 2 pm on Tuesday...
12-03-14 Relationship, Interaction and the BodyRELATIONSHIP, INTERACTION AND THE BODY: AN INTRODUCTION TO BODY-FOCUS TECHNIQUES FOR CAT THERAPISTS George Downing 12th to 14th March 2014 Järvenpää, Finland In this ps...
13-03-14 An Introduction to Cognitive Analytic Therapy offered by Sussex Partnership NHS Foundation TrustIntroduction to Cognitive Analytic Therapy A two-day course for mental health professionals offered by Sussex Partnership NHS Foundation Trust Thursday 13th and Friday 14th March 2014 Conference Room 2, East Brighton Community Mental Health Centre...