ACAT Newsletter May 2017
Welcome to the ACAT Newsletter – our "in brief" update on the latest ACAT news and developments which we hope will inform members and help people to feel in touch with their Association. In this edition, we have a review of the Tony Ryle Legacy event, feedback from recent ACAT Committees, information about revisions in membership and rejoining ACAT, updates on training and info on the International CAT Conference 2017, events and ACAT's AGM. ACAT is also developing a presence on social media and Rhona Brown gives an update on this. Also new for this edition is a small section on Tips and Hints in using the ACAT website – we hope to make this a regular feature to enable members to get as much out of their website as possible.
If you have any queries about any item you may find the answers on the website or alternatively contact the ACAT office: admin@acat.me.uk or 01305 263511
---
7th International CAT Conference hosted by ACAT and ICATA
'New Frontiers in CAT Understanding and Practice'
Wednesday, 20th September to Saturday, 23rd September 2017
University of Nottingham, Jubilee Campus
On the theme of 'Reformulation and Memory: The stories we tell in reconstructing the past', this year's joint international conference boasts a rich and thought-provoking academic programme. Key note speakers will include Prof Mikael Leiman, Prof Richard Lane, Prof Nicola Clayton and Clive Wilkins. But there will be time, too, to mingle with friends and colleagues old and new; to enjoy bursts of culture……and to tango!
Full details, including the programme (subject to change) and booking information, may be found on the ACAT website: International CAT Conference 2017
Conference Workshops:
An exciting range of conference workshops is soon to be announced.
Book your conference place now and ensure early booking options for the workshops when they become available – anticipated mid May
We very much look forward to seeing you at what promises to be a wonderful event! You will be assured of a very warm welcome.
Conference Bursaries………
Early this spring we learnt that Tony Ryle had bequeathed a sum of money to ACAT. ACAT's Trustees have agreed that this be used to increase the amount available for conference bursaries this year. We would like to be able to assist as many people as we can to attend the conference who, for whatever reason, may not have been able to meet the conference fee. If you would like to be considered, please complete the application form and return in confidence by post to ACAT or by email to maria.cross@acat.me.uk by 1st June, 2017 (available for download from the conference webpage). If the applicant is successful, the bursary will be awarded toward the cost of the conference fee (travel costs etc would need to be met separately). All applications are of course treated in the utmost confidence.
---
ACAT Committee Updates
Changes in Chairs:
Early 2017 has been a period of change for ACAT's Committees with changes of Chairs in Training Committee, Exam Board and Ethics Panel.
Training Committee: Anna Jellema, Chair of Training Committee for the last four years stepped down in February. Liz Fawkes is taking over the mantle and we are pleased to welcome her to the role.
Exam Board: Shirley Akgun, Chair of Exam Board since 2010, also resigned in February and we welcome new Chair: Anna Jellema.
Ethics Committee: Rachel Densham, ACAT's Ethics Lay Chair since 2014, has now left the role. Trustees Jay Dudley and Henrietta Batchelor have very kindly stepped in as Acting Chair and Vice-Chair respectively as we look for a new lay Chair of the Ethics Committee. If you know of anyone who might like to be considered for this role, and is not a member of ACAT, please encourage them to get in touch: maria.cross@acat.me.uk. Equally, please let us know if you would be interested in joining the Ethics Panel.
A huge thank you is offered to Anna, Shirley and Rachel for all their hard work over the past years.
Website Training Pages
As you are all probably aware, there has been a major training strategy review over the past couple of years which has now been agreed by Training Committee and Trustees. The full range of training options – split into Non-Accredited and Accredited ACAT courses – is now fully described on the website under Training in CAT.
The front page is introductory giving a synopsis on each type of training. This then leads into separate pages dedicated to each level of training together with further information on:
Embarking on CAT Training
Supervised Clinical Practice as part of CAT Training
Personal Development and Personal Therapy as part of CAT Training
And lastly a flowchart of CAT Training
All current training courses on offer are also listed.
We have had very positive comments about the information held on these pages and hope that you will find it useful.
Training Handbook
With the agreement of the strategy proposals, the Training Handbook has also been totally revised and this can be accessed by all members in the Training documents section on the website (from your member home page scroll down to "Training". Select "Training Resources" and you will find the "ACAT Training Handbook – New Edition" alphabetically). This is now fully up to date and contains a wealth of information about training and of course is vital for anyone considering setting up a new training.
New Courses for 2017
Approved: CAT Skills Case Management Programme at the Munro Centre (Maudsley Hospital) – many congratulations to Jessie Emilion, Course Director. This course will be commencing 25 July 2017 and details will be added to the ACAT website shortly.
In the pipeline: Dorset Practitioner Training (Suzanne Lyons) and Norfolk Practitioner Training (Jane Cawdron and Conrad Barnard)…….look out for updates on the website!
Please go to Training Courses for the full range of currently offered courses – all listed at the bottom of the page reached through this link.
Important revisions to Practitioner and Foundation accreditation forms……and reminders……
Training cases – for reasons of confidentiality the patients' initials only are now required, ie no first names please.
All signatures must be original and on the original form – copied/digital signatures or emailed forms can't be accepted. This is crucial – forms will be returned if not the signed originals! Using blue ink would be helpful.
Applications must be received by the submission deadline set at least three weeks before the Exam Board – you can check with Maria Cross, Exam Board Administrator, for the relevant dates – or check the "important dates" calendar on the website – see below. Late applications will be held over to the next Exam Board.
If a patient 'drops out', a statement is required from the trainee and the supervisor. Please note only one drop out?case can be considered in the portfolio of 8 cases across practitioner training .... provided there are supportive letters.
The revised accreditation forms are available for download from the ACAT website (under Training Resources) – please ensure that these are used from now on……thank you.
CAT Supervisor Training:
The importance of supervisors being fully paid-up members of ACAT……
CAT Supervisor Trainees: please ensure that your accredited supervisor is a current and full member of ACAT. This is an important requirement. The website provides a Register of Supervisors which is always up to date. If you cannot find the name you are looking for here then that person is either not an accredited supervisor or they are not a current ACAT member. If in doubt, please contact ACAT Administration: admin@acat.me.uk or phone 01305 263511
CAT Supervisors: please be aware that supervision provided whilst you are not a current and full member of ACAT cannot count toward the trainee's accreditation.
Calling all ACAT Accredited Supervisors
Do you offer CAT supervision privately? Do you offer training supervision? Did you know the ACAT website has a "Find a Supervisor" list?
The 'Find a Supervisor' list is an opt in list for ACAT accredited supervisors. Individual entries can be set up in much the same way as the private practice list and is a great resource for ACAT members seeking supervision. ACAT training courses need the support of ACAT accredited supervisors in order to provide sufficient placements or partial placements. There is demand too from the DClinPsychol foundation trainees and so if you are interested in offering supervision or training supervision then please ensure your name and details are on the private supervisor list. Please also refer to an email recently sent from Dawn Bennett with much more information on offering DClinPsychol placements.
How to:
Log on to the site and from your home page scroll down until you see the horizontal bar "CAT Practice"
Click on Private Supervisor
Click on Add Listing
Complete the form fully and submit.
This will come through the ACAT office, be authorised and then appear live on the Find a Supervisor list
You can view the current list through the link in the top right hand corner of the website (visible once signed on) or by clicking here
Further information about offering CAT supervision of training cases as a full or partial placement for the DClinPsychol courses has been recently emailed to all members.
Exam Board: 17th February 2017
Warm congratulations to the following trainees accredited at February's Exam Board:
One Year Foundation Level Certificate
CAT East NSFT: Claire Moran, Joanna Smith
Practitioner / Therapist
CAT North: Mark Allen, Gemma Cox, Elise Hymanson, Lauren Moon, Suzanne Ogden, Louise Roper, Natasha Sayer, Vanessa Tobin
Jersey: Lucy Cutler, Anna Haigh, Laura Posner, Rachel Rud, Charissa Russ
NTW: Catherine Dinning, Hayley Hawksby, Vanessa Waggott, Celia Wild
Oxford: Renata Harris, Nargis Islam, Sheryllin McNeil
St Thomas': Melanie Davis, Louise Harriss
Supervisor
Isabel Bell, Elisabeth Drewett, John Fox, Laura Hill, Joanne Milner, Marilyn Sher, Claire Walsh
CAT Skills
Southampton: Marie Finn, Heather Randall, Clare Roper
Working with Complex Clients in Adult Mental Health or Forensic Settings: Chris Barry
Non-Practising Membership
We are pleased to let the membership know that the conditions around non practising memberships have also been reviewed and agreed to allow our members more flexibility during life events such as maternity leave, illness, formal sabbatical etc. The maximum period for this type of membership remains at 24 months but the lower duration is six months (rather than a year). We also now have more flexibility to offer members part year membership if taking non practising membership (min six months) – again full details on the website.
Click here for full information about Non-practising Membership – item 2.5
Lapsed Membership and Re-joining ACAT
ACAT always wants to welcome back those accredited members whose membership may have lapsed and over the past few months has been reviewing the process together with the non practising options to ensure fairness to all members whilst ensuring and maintaining training and practice standards. A revised process was approved at Training Committee and Board of Trustees in February 2017.
This is now described fully on the ACAT website in the About ACAT / Membership section
Click here for updated Membership information (including non practising membership)
Click here for information about re-joining ACAT after a lapsed period.
Very much in brief (please click above for full information) we are introducing a "Re-joining Member" category for those who wish to rejoin after a period of years but who do not quite meet the rejoining requirements which ensure that the lapsed member is fully up to speed with current CAT thinking, supervision and CPD. A programme is agreed over a few months and full membership reinstatement agreed once this is successfully completed.
Rejoining fees payable have been reviewed and the new terms are set out on the website page.
ACAT Membership Fees
ACAT's last membership fee increase was three years' ago in 2014. We are delighted to have been able to hold these fees steady since that time but unfortunately due to increasing costs it is now necessary to make a further small increase. ACAT's Board of Trustees has approved a 5% increase in fees for the year from 31 October 2017. It is with regret that this is necessary and we would like to reassure you that the increase stated is the minimum possible required to keep ACAT financially stable.
This means that fees will increase as follows:
Trainees: currently £82 – new fee £87
Practitioners: currently £93 – new fee £98
Psychotherapists: currently £157 – new fee £165
Friend: currently £47 – new fee £50
Non Practising: currently £30 – new fee £32
Retired: currently £30 – new fee £32
ACAT Membership – Hardship Fund
Whilst mentioning the increase in membership fees, we also want to highlight that there is a Membership Hardship Fund which has been running for the past few years and which will continue to be offered. This provides assistance to members in financial difficulties. If you are experiencing financial difficulties and would like to apply for an award of up to 50% (max) of your annual membership fee, please email: alison.marfell@acat.me.uk in confidence for an application form. The closing date for receipt of the completed application form for the 2017-2018 membership year is 30 November, 2017.
---
Tony Ryle Legacy Event – 10 March 2017
Around 150 people came together on 10th March, 2017 to celebrate the life and work of Tony Ryle. As Trustees of ACAT, we wanted the day to be a mixture of memories of Tony and of new developments and hopes for the future. The day went smoothly, without a hitch - apart from the very expensive flower display that I had ordered getting stuck in traffic and being delivered late. Even this may have been to Tony's liking as, according to his family and those who knew him well, he would not have wanted any flowers or fuss in any case! The day felt like a coming together of all of those who love CAT and I think people were moved and inspired in equal measure.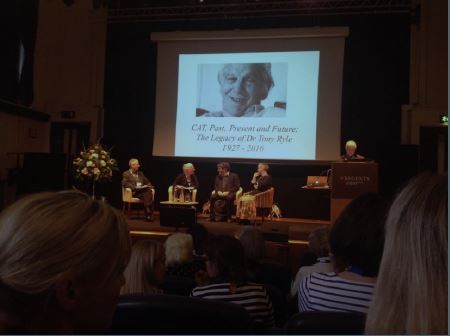 Having spent months organising the day, and choosing some of my personal favourite speakers, it is hard for me to judge the content. Also, we did not collect any formal feedback, so I have asked a few people to give me their reflections of the day itself:
Rosemary Parkinson, CAT therapist and supervisor
"The Tony Ryle Memorial Day worked really well. The day was a mixture of interesting stories, intellectual stimulation and a great deal of warmth. It felt good to be part of something which each of us there felt passionate about. I thought the day perfectly balanced a "thank you and goodbye" to Tony, with a celebration of the therapy that he founded. Some speakers, such as Donald Bermingham, Anna Jellema and Mikael Leiman, reflected on their time with Tony and it was great to hear stories from the early days. Then there were presentations from current therapists with new ways of working, such as Steve Potter and Alison Jenaway, showing how CAT is evolving, and also some research from Steve Kellett showing how, as a therapy, we are still looking to make sure that what we do works as efficiently as possible. There was even a talk by someone who had just completed their training. I enjoyed the video clips of people reflecting on their connections with Tony. In some ways, the whole day was like a letter to CAT - a chance to reflect on what has happened, to look at where we are now, and to think about where we might be going in the future. It was also a great opportunity to see familiar faces. It left me feeling inspired all over again by CAT."
Carol Gregory, CAT therapist and consultant psychiatrist
"I was so glad that I went to Tony's memorial day. I had never met him and so it was a real pleasure to hear about him from people who had obviously known him well and whose clinical work he had influenced in such an important way. He was obviously revered for his intelligence, creativity and determination to bring a coherent theory and practice based model of therapy into the NHS to help people with relational difficulties; but he also came across as a very "real" person - with all the attendant complexities to his character that we all have. And I liked him all the more for this!"
Steve Potter, CAT therapist, supervisor and trainer
"The day of celebrating the work and life of Tony Ryle was a rich and moving mix of looking back and looking forward. First encounters with Tony and his ideas were warmly and honestly described. The diversity of voices and perspectives testified to the strength and depth of the legacy, both within the CAT model, and more widely. Michael Leiman gave an inspiring account of both the clinical precision and intellectual adventure of working with Tony Ryle in the early days. There were engaging accounts from newcomers to the model, and of the determination involved in researching CAT. Although it might have been judged a day for those long involved in CAT and in the work of ACAT, there were very positive responses from trainees attending the day (a great day to see the model come alive) and outsiders who were impressed by the fond, and open relationship between a community of practitioners and its father figure. The day ended with an impressive "open mic" session (accompanied by a glass of wine) which, with its lack of structure, could have fallen flat, but which offered a rush of voices and perspectives - not all in harmony - on what an open, lively and creative legacy the founder of CAT had achieved."
Thanks to you three for your thoughtful comments.
At the end of the formal part of the day, Liz McCormick led us in a mindful moment, encouraging us to notice what words came to us about the day - my word was gratitude, both to Tony Ryle for his incredible gift of CAT, but also to all of those who supported me in putting the day together, and agreed to contribute. Finally we ended with music, and what Glenys Parry described as "dialogic Bach" played by Stella on the oboe and Jason on the violin. This was yet another reminder of how talented the CAT community is in so many different ways.
Alison Jenaway, consultant psychiatrist in medical psychotherapy, CAT therapist and supervisor, trustee of ACAT
Tony Ryle Legacy Event || Podcast
We hope to have an audio podcast of the day on the website shortly.
---
Social Media
The @Assoc_CAT Twitter account now has over 650 followers receiving updates and news about ACAT. Newcomers can engage with us, learn about CAT as a therapy and ACAT as an organisation. We can engage with others and to date this has helped us receive useful feedback about our website, plus suggestions on how to help the public understand CAT better.
If you're Twitter-curious but don't want to set up an account, then you can still follow ACAT-related tweets by typing in a particular hashtag to your search engine. All our events have a hashtag assigned. If you search for #ACATryle17 you'll see over 100 tweets and images from the Tony Ryle Legacy day.
If you're organising a CAT-related event consider giving it a hashtag and informing us. Contact me if you need advice on this, or check out one of the guides listed here. We hope to run a Twitter fringe event at September's International Conference - hashtag #IntCAT17.
During the pre-election period there are some restrictions on what charities can communicate, so until 8th June ACAT's Twitter activity may be a little more quiet than usual.
For more information visit the new Social Media page on the website.
---
CPD Events
Look out for your monthly email from Alison for an overview of CPD events available. Alternatively log into the website and then click on "ACAT Events and CPD" on the toolbar.

---
Notice of ACAT's Annual General Meeting 2017
ACAT's AGM is being held on Friday 22 September 2017 during the International CAT Conference (20-23 Sept 2017) in Nottingham.
The ACAT Board of Trustees welcomes members raising matters with the Board that they feel cannot be resolved by the normal decision making machinery of ACAT (i.e. its committee structures). Items that a member feels need to be drawn to the attention of the Board which they feel have either not been resolved by the committee process, or those that may require direct consultation with or a survey of members' opinion, or consideration by the Board for inclusion on the agenda of the next AGM should be addressed to maria.cross@acat.me.uk
The deadline for such items relevant to the AGM is 2 June, 2017.
---
Reformulation
There has been a great response to calls for papers for Reformulation recently and the editors are working hard to include as many of your articles as possible in the forthcoming summer edition. As always articles are always welcomed: please email your article for future editions to reformulation@acat.me.uk – please remember articles may be between 250, typically 2,000 and exceptionally and occasionally, up to 5,000 words. Letters and book reviews should not normally exceed 1,000 words. Please click here for further information about submitting articles. ?
Tony Ryle Special Edition:
Articles may still be submitted for the special edition due to be published Autumn/Winter 2017 to celebrate Tony Ryle's work and should be a maximum of 2,000 words. The editors would welcome a summary of any presentations delivered at the Legacy Event on 10th March written as an article, a goodbye letter, a postcard - or a format of your choice. ?
Please send through a summary of your article to reformulation@acat.me.uk or, if you would like to discuss with the editors, please also email reformulation@acat.me.uk by 8 September, 2017 and indicate in your email 'Tony Ryle Special Edition'.
Nicky Rogal and Louise Yorke – Reformulation Editors
And finally:
---
ACAT Website || Tips and Hints
Did you know....?
1. You can check and update your contact information
All our emails and postal communications use the contact information held in your Membership Record. To check or update your personal data:
from your home page (you'll need to be logged into the website)
scroll down to the heading "Your Records at ACAT [Membership Number: ACATxxxxx]
click on the "Your Details" tab just below it
click on "update your records" (in yellow text, to the right of the top purple banner)
2. You can be on ACAT's "Find a Therapist" list if you are an accredited fully paid up Practitioner or Psychotherapist and working privately.
How to submit a Private Practice listing:
Log onto the website and from your homepage
scroll down to the "CAT Practice" bar
select the 'Private Practice' tab
select "click here" for information about the requirement for private practice listing and read through the requirements
go back to the 'Private Practice' tab
click 'Add Listing' to submit the information you would like displayed under 'Find a Therapist'. The information you put into the free text box should include the times and days you are available and your contact details. The information submitted in this form is, of course, available to the public.
3. You can download receipts for payments made to ACAT from the website:
Log into the website then, from your homepage
scroll down to the "Accounts" bar and
select the "Your Account with Receipts" tab
select the PDF icon alongside your desired item to download the relevant receipt.
---
We hope you have found the newsletter informative. We anticipate the next edition will be in July and submissions will of course be welcome – deadline 30 June, 2017.
Best wishes
ACAT Team
admin@acat.me.uk
01305 263511


This message contains confidential information and is intended only for the individual named. If you are not the named addressee you should not disseminate, distribute or copy this e-mail. Please notify the sender immediately by e-mail if you have received this e-mail by mistake and delete this e-mail from your system. E-mail transmission cannot be guaranteed to be secure or error-free as information could be intercepted, corrupted, lost, destroyed, arrive late or incomplete, or contain viruses. The sender therefore does not accept liability for any errors or omissions in the contents of this message, which arise as a result of e-mail transmission. The information contained in this e-mail may be subject to public disclosure under the Freedom of Information Act 2000. Unless the Information is legally exempt from disclosure, the confidentiality of this e-mail and your reply cannot be guaranteed. If verification is required please request a hard-copy version.

Association For Cognitive Analytic Therapy Ltd., PO Box 6793, DORCHESTER, Dorset, DT1 9DL, England
Registered Charity No. 1141793. Company Registered In England No. 06063084
Regd. Office 8 Unity Street, College Green, BRISTOL, BS1 5HH, United Kingdom
+44 (0)1305 263511 - www.acat.me.uk