The Clinician's Guide To Forensic Music Therapy - Book Review
Wakeling, N, 2017. The Clinician's Guide To Forensic Music Therapy - Book Review. Reformulation, Winter, pp.56-57.
---
The Clinician's Guide to Forensic Music Therapy
Stella Compton-Dickinson and Laurien Hakvoort
Published: (2017) Jessica Kingsley Publishers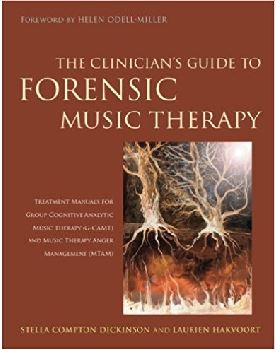 The Clinician's Guide to Forensic Music Therapy is written as a guide for music therapists and clinicians working within prisons and secure forensic hospitals; the authors present a thorough overview of forensic systems and frameworks from UK and Dutch perspectives and offer the reader two well-researched and rigorously tested manuals for structured, time-limited music therapy interventions for use within forensic settings - Group Cognitive Analytic Music Therapy (G-CAMT) and Music Therapy Anger Management (MTAM).
Both models have been developed within a traditional music therapy framework, using the medium of music as a relational tool, motivator, reward, container and conduit for change whilst emphasising the importance of strong therapeutic alliances. Compton-Dickinson's G-CAMT combines some of the principles and structures of Cognitive Analytic Therapy (CAT), whilst Harkvoort's MTAM is set within Cognitive Behavioural Therapy (CBT). Each manual has been designed to work alongside MDT treatment objectives and carefully consider risk management, risk assessment and treatment outcomes. They provide detailed, step-by-step instruction on the treatment process including inclusion criteria, necessary preparation, assessment, evaluation, implementation and specific musical techniques used within each model. The models aim to help patients within these settings by gradually introducing new concepts to improve self-awareness, promote positive relational skills, build resilience, decrease impulsivity and develop positive coping.
The manuals are covered in Chapters 2 and 3. I like the containing framework the prescriptive structures, tools and stages of treatment that the G-CAMT model provides while allowing for music therapists to be creative in their musical approaches within it. The guidance for the different stages of treatment (pages 45-49) filled me with a sense of calm confidence, and I could see myself using these quite successfully in a group setting. I found some of the practical worksheets provided for this model somewhat daunting, as these were all very specific to CAT. Compton-Dickinson recommends supervision with a CAT therapist prior to commencement of treatment to learn about using the CAT tools; this might be fine for experienced forensic music therapists, though perhaps for those new to the field some basic CAT training might be useful to better understand the concepts more thoroughly. I would have liked to see some tools specific to music therapy processes for this model.
Harkvoort's MTAM chapter, for me, was an easier read, and the worksheets felt more user friendly. I did not feel that I needed to know a great deal about CBT to use this manual confidently, though the basic concepts of this approach are summarised for the reader. Each session is meticulously mapped out for the therapist, and I felt this incredibly helpful in understanding how sessions progress weekly and how the different stages of treatment unfold. I was especially intrigued by the section The musical improvisation assessment (Chapter 3, pages 82-88), where Harkvoort describes an assessment tool designed to indicate what type of specialist music therapy programme, if any at all, a patient would be best suited to using observations within clinical improvisation.
The authors provide thoughtful guidance for the clinical use of music in Chapter 7, drawing from neuroscience to bolster their rationale for the careful consideration of the use of music by clinicians within other therapeutic disciplines. I would recommend this chapter first for non-music therapists, to get a sense of the risks and benefits that come with music when used in secure environments. There are three case vignettes at the end of the chapter; I found Vignette 2 especially poignant, as it highlights how therapeutic progress can be disrupted if all members of the MDT are unaware of risk management and strategies within the treatment plan for every patient.
In Chapters 1, 4 and 5 the authors provide a robust rationale for using these directive models of music therapy within forensic settings, considering their use within specific contexts and forensic populations and providing more in depth descriptions about their application, for example, guidance on how to use diagrammatic mapping. I would advise to read these chapters before the manuals to get a broader sense of the intricacies the work will entail. Chapter 6 is devoted entirely to offering guidance on outcome measures and standardised assessment tools for use within forensic settings, which I think is an invaluable resource for clinicians trying to evidence therapeutic efficacy and cost effectiveness during an era of target driven clinical commissioning.
From cover to cover, this book holds a wealth of helpful information regarding key aspects of music therapy work within forensic psychiatry underpinned by years of experience working within these environments, a vast amount of research and a solid theoretical understanding of the sensitive and complex psychological and organisational processes in these settings. I felt disappointed that other types of music therapy techniques that are successfully used within secure settings, for example, Mentalisation Based Music Therapy, therapeutic songwriting, song lyric analysis, or one to one non-directive clinical improvisation were not explored; I fear the title of the book might imply the models described here are the only suitable models of music therapy for this demographic, which is not the case. I greatly appreciate the authors' humane and compassionate insight into working with this particular client group, and I think the evidence provided within offers clinicians a glimmer of hope that violent offenders can indeed be rehabilitated and have the potential within them to lead fulfilling lives.
Working with offenders can be incredibly challenging, and I think this guide will provide both veterans of forensic work and those new to the field a comprehensive overview of the nature of the work and how music therapy, and music, can be used to rehabilitate patients in these settings.
Review By Nicole Wakeling
Music Therapist, Langdon Hospital
Regional Secure Unit, Dawlish, Devon